As expected, 2012 turned out to be yet another prolific year for Tumblr and single topic blogs in particular, which opened up a wide variety of weird and hilarious topics for our enjoyment, from celebrity photoshop makeovers (One Tiny Hand, Cholafied) and Apple's inability to navigate (iOS 6 Maps) to coping with social media alienation (Screenshots of Despair) and placing celebrity GIF animations where we didn't know they belonged (Chandler Dancing on Things, Lana Del Rey Dances Everywhere), the list could go on forever. To save you time and energy, we've gathered up this top ten list on the best examples of single topic blogs from this year.
#10: The Hawkeye Initiative
On December 1st, 2012, webcomic artist Noelle Stevenson suggested that artists replace female superhero characters with Hawkeye, a Marvel character who is also part of The Avengers, as a way to criticize the way female characters are often drawn. The next day, a single topic blog titled The Hawkeye Initiative launched, gaining more than 10,000 followers in just over 18 hours.
Notable Examples
#9: Ignore Hitler
Ignore Hitler was established in May 2012 by a Scottish artist named Michael who began drawing Adolf Hitler as an irrelevant aspect of the image in every round of the turn-based art game Draw Something he played. On the first day, he posted more than a dozen examples of his artworks, accruing more than 100 posts and mentions on Reddit, Kotaku and Buzzfeed in the first ten days. However, on August 4th, 2012, Michael announced that he would cease updating the Tumblr.
Notable Examples
#8: Hey Girl, It's Paul Ryan
The Ryan Gosling-inspired blog Hey Girl, It's Paul Ryan was created in April 2012 after political consultant Emily Zanotti read an article about how Republican congressman and later Vice Presidential nominee Paul Ryan has caught fish with his bare hands. Days after the blog launched, the Office of House Minority Leader Nancy Pelosi sent a press release email with three rebuttal images, painting Ryan in an unfavorable light. The blog saw a resurgence in October after photos from Paul Ryan's Time Magazine photoshoot depicting the politician sitting on a workout bench were published.
Notable Examples
#7: Texts From Hillary
Washington D.C. PR employees Adam Smith and Stacy Lambe created Texts from Hillary in April 2012, making comic style images with a photo taken by Reuters photographer Kevin Lamarque in October 2011 showing the U.S. Secretary of State Hillary Clinton engaged with a Blackberry aboard a military aircraft. The first instance was paired with a photo of President Obama also looking at a Blackberry (shown below, left) as the captions envisioned what the two were texting one other. Within 24 hours, the blog had been shared on Facebook more than 46,000 times resulting in more than 172,000 likes and comments. Five days after the launch of the blog, a member of Clinton's staff reached out to Lambe and Smith, resulting in a meeting and Clinton submitting her own image macro to the site. Her submission was deemed the highlight of the blog and the two chose to cease updating.
Notable Examples
#6: Dogshaming
Dogshaming was established in August 2012 showcasing photographs dogs, often with broken or eaten objects, with a sign explaining the nefarious act the animal committed. Five days after the blog launched, the Huffington Post revealed the blog was created by Tumblr's editorial director Chris Mahoney after he saw the first post (shown below, left) while scrolling through his dashboard. The next day, he passed the reins over to creators of the first photo.
Notable Examples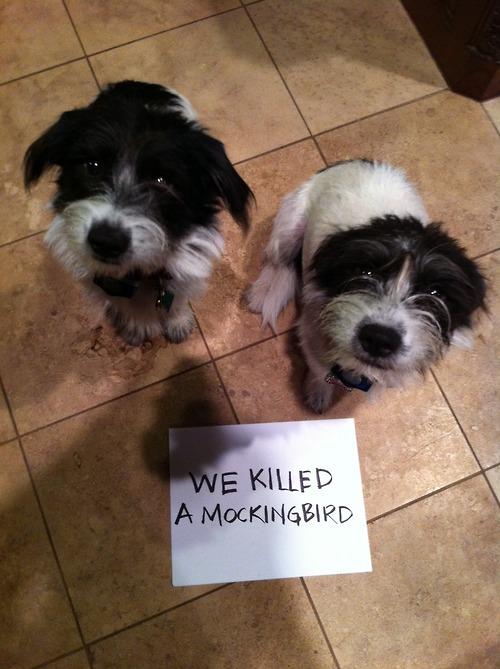 #5: Texts From Dog
Texts From Dog launched in April 2012, featuring a series of iPhone screenshots depicting text conversations between blogger October Jones and his bulldog. In November, a book based on the blog was published by Mariner Books. The same month, an YouTube series featuring animated depictions of the texts launched on the YouTube channel The Poke.
Notable Examples
#4: What Should We Call Me
The reaction GIF-based blog What Should We Call Me was created in February 2012 as a way for two best friends to communicate their separate law school experiences while living across the country from one another. The blog's title was derived from a typo that occurred in the conversation they had while trying to name the blog. By May, dozens of spin-off blogs were created reusing the original blog's Tumblr layout and flavoring them with different perspectives including localities, specific colleges, careers, stereotypes and fandoms.
Notable Examples
#3: McKayla is Not Impressed
After United States gymnast McKayla Maroney performed a near-perfect vault during the 2012 Olympic Games, she was believed to be the forerunner for the gold medal. However, an ill-landed vault led her to take the silver on August 5th, 2012. Reuters photographer Bryan Snyder snapped a photograph of the gymnast on the winner's podium scowling with her arms crossed. Two days later, the blog McKayla is Not Impressed launched, photoshopping her into historical or spectacular scenes giving the impression that she was unfazed by them. On November 17th, the official White House Twitter account tweeted a photo of Maroney and President Obama (shown below, right) both mimicking her infamous scowl.
Notable Examples
#2: Rich Kids of Instagram
Rich Kids of Instagram launched in July 2012 as a way to showcase and critique the lavish lifestyles of teenagers using the photo sharing mobile app. Collected via the hashtag #rkoi, more than 1200 Instagram photos were tagged during the blog's first two weeks. Some teenagers depicted have spoken out against the site, claiming they are "more substantial than their father's credit card" whereas others have been forced to shut down their social media accounts after being featured on the blog. However, not every picture with the tag on Instagram makes it to the blog: as of December 2012, there are nearly 45,000 images tagged #rkoi.
Notable Examples
#1: Binders Full of Women
During the second U.S. presidential debate in October, Mitt Romney shared an anecdote about the methods by which he sought to create a gender-balanced cabinet while he was the governor of Massachusetts by noting he went to women's groups he gave him "whole binders full of women." Immediately after the statement was uttered, Hofstra graduate Veronica De Souza launched the blog Binders Full of Women hosting image macros attempting to interpret and critique Romney's strange assertion. Within the first half-hour, the blog gained more than 3000 followers and received more than 5000 submissions in two days. After the election ended, De Souza shut down the blog.
Notable Examples
Search Interest
Facebook Comments