About the Actor


From Top Left: Moonstruck, Weather Man, Lieutenant Bad, Adaptation, National Treasure, Face/Off
Nicolas Cage is one of the most recognizable Hollywood actors in the world today. Over the span of nearly three decades, Cage has proved himself as a transformative actor capable of playing versatile and often intense characters, from the "quirky misfit" in the eighties (Valley Girl, Raising Arizona) and "neurotic criminal" in the nineties (Con-Air, Gone in 60 seconds) to "average joes" (Family Man, Weather Man) and "adventure heroes" (Ghost Rider, National Treasure) in more recent years.
Hollywood Career

Raised by literature professor August Coppola and dancer / choreographer Joy Vogelsang, Nicolas Cage grew up in the artistically inclined Coppola family, the most notable relative being his uncle Francis Coppola and cousin Sofia Coppola. In fact, being self-conscious of his surname and the legacy of his uncle Francis Coppola, Cage changed his acting name to "Nicolas Cage" early on in his Hollywood career, which was apparently inspired by one of his favorite comic superheroes Luke Cage.
After kicking off his movie career with a very minor role in Fast Times at Ridgemont High (1982), Cage's true screen debut came in the following year with the role of punk-rock boyfriend Valley Girl (1983). He landed his first critically acclaimed gig with Coens brothers' Raising Arizona (1987) in which he played an ex-con man trying to straighten up his life and heroine's young brother Ronny in romance comedy Moonstruck (1987), for which he received his very first Golden Globes' Best Actor nomination.

Throughout the late 80s and early 90s, Nicolas Cage continued to take on soft-hearted male characters (Wild at Heart, Honeymoon in Vegas (1992), Leaving Las Vegas (1995) while beginning to experiment with more badass criminal roles in Face/Off and Con Air (1997). Nicolas Cage's more recent milestone was set in 2002 with Spike Jonze's comedy drama Adaptation, in which he played the character of Charlie Kaufman, a bibliophile / screenwriter who gets invited to write a movie adaptation of the book "The Orchid Thief" by Susan Orlean. For the role of Kaufman, Cage was nominated to over a dozen of Best Actor awards, including Academy Awards and BAFTA.
Nicolas Cage & Internet Memes
Pre-YouTube Era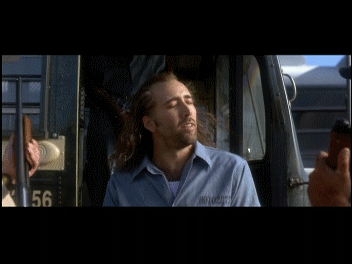 Having established himself as a famous Hollywood actor with prolific records by the 2000s, fan tributes and parodies of Nicolas Cage's memorable quotes began as early as in 2005 on YTMND.
Some of the notable instances featuring the actor include Nic Cage loves Mario Kart, Cage Rampage, Nic Cage Has Great Hair, Cage loves Katamari and Nic Cage Doesn't Change Facial Expression.
Not The Bees! (2007)

In 2006, Nicolas Cage starred in the modern remake of the 1970s horror film "The Wicker Man" as the protagonist Edward Malus, an American policeman who goes on a chase after his missing daughter. Upon its release, the film ended up getting heavily panned by critics and moviegoers for mediocre acting and unintentional comedy, with memorable lines like "HOW'D IT GET BURNED?" and "NOT THE BEES!", as well as the scene where Nic's character walks up to a woman and starts beating her while wearing a bear suit.
The worst moments of The Wicker Man began to surface on YTMND as early as in September 2006, with sites like OH NO NOT THE BEES and HOW'D IT GET BURNT.
In January 2007, YouTuber enoosti posted a montage trailer of the notorious remake film titled "Best Scenes From The Wicker Man" (2,562,523 views as of 1/2011) and YouTuber piperifle posted another quality scene from the movie titled "Nicolas Cage Punches A Woman Whilst Wearing A Bear Suit." (624,741 views as of 1/2011) For more on parodies of The Wicker Man, go to KYMdb – Not The Bees.


Your Argument is Invalid (2008)

Yet the single most viral instance featuring Cage came in the form of an image macro, with his hair digitally manipulated in the shape of an eagle and a caption reading: "My Hair is a Bird; Your Argument is Invalid." Based on a stillshot from set of the 2007 sci-fi action film Next, the photoshopped version is rumored to have originated on 4chan circa early 2008, although no archived thread exists to confirm this.
The phrase "Your argument is invalid" is often employed in debates of logic, and altough it predates the internet, many an internet know-it-all has used the phrase in chat, email, and on message boards. On May 19th, My Hair is a Bird made the front page of Digg.com.
For more examples of image macro series, check out KYMdb – Your Argument Is Invalid for more.



Nicolas Cage as Everyone (2009)

In November 2009, the Internet witnessed the launch of Tumblr site Nicolas Cage As Everyone, a single topic blog dedicated to photoshopping the American actor's face over everyone else that has ever been photographed. According to the site description, it was founded on the "belief that everything in life would be better with a little more Nic Cage, the most unique and versatile actor of his generation."
Currently, KYMdb – Nic Cage As Everyone entry has 121 images.




Nicolas Cage Wants Cake (2010)
In June 2010, Newgrounds animator Harry Partridge posted a remix video titled "Nicolas Cage Wants Cake" featuring a dialogue scene from the the 2000 romance drama film Family Man. In the scene, Cage's character comes home to find the piece of cake he'd saved missing from the fridge, only to realize his wife is already eating it. For more details on the series, check out KYMdb – Nicolas Cage Wants Cake.
Nicolas Rage Losing His Shit (2010)
In November 2010, YouTuber hh1edits posted a montage of Nicolas Cage' manic outbursts on screen throughout his acting career, titled "Nicolas Cage Losing His Shit":
Facebook Comments