@Jyron Stone
Speaking of the primary issue in the episode, I really, really like how they handled it. AJ's side of things was presented believably and sympathetically, when they could have just as easily made everyone but Fluttershy into pretty much bloodthirsty idiots. Fluttershy's side, while being shown as the "right" solution, was also implicitly shown to be somewhat idealistic: notice in the song how the vampire bats become all fluffy and cutesy when she sings, despite them being exactly as ugly as AJ describes them even outside of the song. SHIT'S SO

TACTFUL

I

LOVE

IT

AAAAAAAAAAA
You know, that was actually one of my only issues with this episode. Both Applejack and Fluttershy had problems with their plans, yet Applejack is the only one who needed to apologize at the end. I mean, I know Fluttershy was right after all, and that's fine, but it just feels like her moral of "Don't get pressured into things if you don't think they're right" could just as easily be applied to Applejack's arguement, which brings it more to "Don't get pressured into things unless you're wrong, which you might be."
I don't know, maybe I'm just spouting rubbish. I am glad that nobody was shown as utterly wrong, but unless Fluttershy is 100% guaranteed to be right all the time and the mane cast should just listen to her to avoid literally all conflict, I feel like the peer pressure moral wasn't a perfect fit. Feel free to argue.
---
Other than that, the episode was great. Lots of good jokes, some long-awaited Applesauce and Fluttershutter interaction, everyone seemed in-character and Flutterbat's design was adorable as a flutterbat out of hell all hell. Also, the little fang at the end was cool… I hope they keep it as a part of her build from now on. I mean, it's unlikely they would bother remembering such a small detail, but this is the season of delicious, delicious status quo change.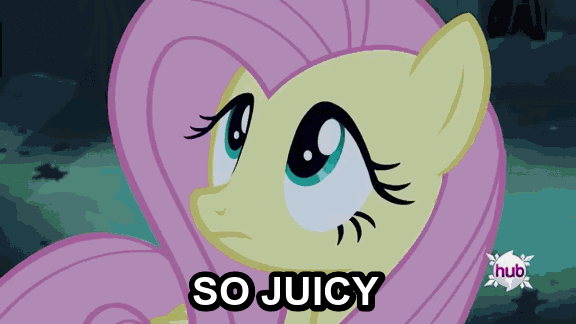 ---
Edit: My first page get! About damn time. I'm going to post Flutterbat to watch over this page with her mighty brooding powers!

.gif!
---
Double edit: Well, it looks like the exclaimation point at the end of this episode's title is exploderising the embed. Plan B.

Last edited Dec 28, 2013 at 06:42PM EST