Okay, so sometimes I find a bunch of gifs when new episodes come out and use them to point out a bunch of silly little moments that I liked, but this one was so silly and filled with those little moments that there's no way I can find gifs for all of them. So under the tag, have the embed follwed by me just pointing out what bits in the video I'm talking about.
00:06: Aaaand instant Spikeabuse. Spike doesn't even bother to complain anymore, it's so routine.
00:57: Oh wow, speaking of abuse, Pinkie pulled off a twofer. That bit of slapstick had a surprisingly high amount of impact. Like, the cutesy music stops and the Pinkie Pie intro music doesn't start until after you hear the bones breaking. That just makes it all the funnier. I've always liked just out-of-nowhere, casual slapstick that happens, has a lot of force behind it and is instantly forgotten. Like when Rarity got decked by that vine that one time.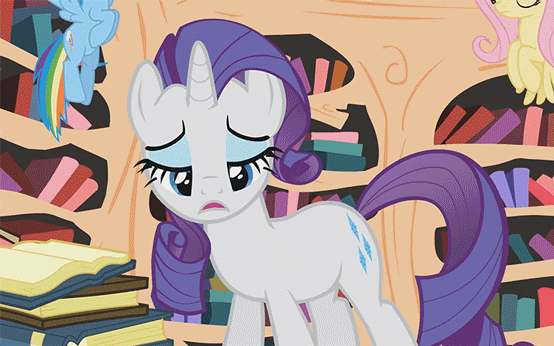 02:47: Aww, poor Pinkie, she looks so sad when her balloon flies away. And look at Rarity, Twilight and Rainbow. They clearly see it, but none of them do anything about it. They just don't want Pinkie to have nice things. That's why she settles for second-hand patio furniture.
03:19: Well, with my lovely new format, I might as well point out the almost creepily small things that I like for no reason, such as the little thing the ponies do sometimes where they lift one foreleg and one backleg. Why are you reading this? …Oh, who am I kidding, nobody is reading this.
03:33: Rainbow is such a Dash-hole. This is why I love her.
05:05: You guys notice how Rarity looks down while she's going down the stairs? That is such an unimportant little detail, but it's really nice. Rarity may be a magical marshmellow unicorn, but she still needs to take care on stairs.


Hey Blue Screen, you remember the ad this gif is from? That campain scared the crap out of me. Yeah, good times… Oh, right, the episode.
06:33: I'm sure that was made into a reaction image in less than a minute after it was aired.
06:50: Another visual I've always been a fan of is whenever Discord just picks up ponies like that. It reminds me of how someone would just casually pick up a cat or something.
07:20: Oh, hey, look at Applejack. Look at how she lifts her leg up. Look at that gaze. Look at that expression. A slightly more immature person would say something like "She's trying to hide her arousal." Thankfully I would never say anything like that.
07:28: Impressive use of hammerspace, Ms. Dash.
08:00: More casual pony lifting. Hang in there Pinkie.
08:25: That shot got a laugh out of me. Just turn around and Discord is just half-dead behind them.
08:41: Applejack really stole this whole scene with moments like this. Other than, you know, Discord. He's hard to beat, though.
09:13: Hooray, more pony lifting, with bonus squishy faces. Also, the shot after that with AJ and Rarity on the ground just looking mildly annoyed at being dropped on their asses cracks me up too.
11:24: I love how pathetic his wings are when they fall o- WHY ARE YOU READING THIS? This is just me pointing at bits and saying "I found this funny." I don't even have gifs for you to look at anymore. Just stop while you're behind.
…Still here? Okay then, we shall continue with the song.
12:31: I love how Twitwi and Can-dance both have a real-ass moment of "OH GOD NOT THE SCOLDING HOT SOUP!"
12:51: Kewl is right, Twi looks cute in everything, even as a Diner Lady. Also, the tango bit after that was really well done. Those little leg kicks that Twilight did communicated a sense of weight and force as well as an "I give up trying to fight this" sort of attitude from Twi. Plus we get another moment at the end of it where Discord just drops her and she lies on her back looking pissed for a moment. I still find that funny.
13:17: Oh hey, a toilet. Looks like Equestrian toilets are the same as Earth ones. That seems impractical somehow…
13:26: Oh hey, a walkie-talkie, metal detector, conveyor belt, TV monitor and airport. I guess they have those as well.
13:33: HAHA! THEY SAID I COULD NEVER TEACH A GOAT TO SKI!
13:35: A race on backs of chimpanzees,
A tiny circus filled with fleas,
A Twilight stress toy I can squeeze,
And me in hammy poses.
13:50: Twilight, I don't care if you're trying to imitate the sassy Princess Leia pose. You can't bend that way without hurting yourself.
14:05: Every time he drops that water, I imagine Twilight just dropping a precision F-bomb offscreen. I know I would.
14:31: I like that sky. That is a nice sky…Why am I still typing this crap…
16:45: The most justified scream this show has ever seen.
17:24: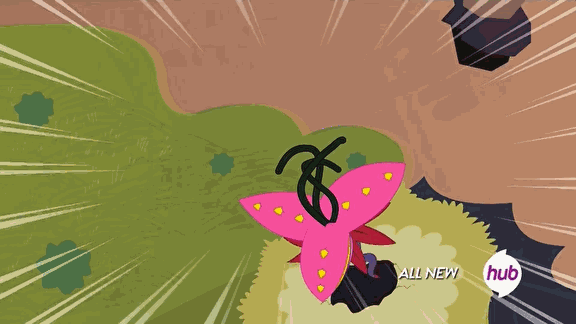 18:11:

19:00: The more I mention pony-lifting, the more it sounds like a weird fetish. I'm just going to chalk it up to me working on this forum post for longer than any sane man should.
19:16: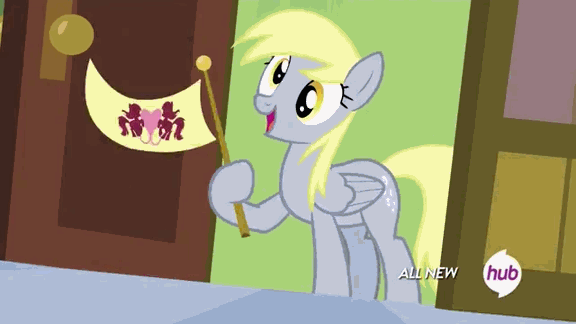 19:48: Insert joke about Shining Armor not "exciting" Cadance anymore.
21:04: Look at Rarity in the foreground sticking her tongue out. I FOUND IT FUNNY. CAN YOU GUESS? OH GOD IT'S TOO LATE TO BE INTERESTING, IT'S 2:13 AM HERE.
21:17: Dash is just chilling up there in the rafters. Reminds me of the "Restore the Elements of Magic" game where i just had Twilight smash face-first into Fluttershy's roof for about 20 seconds. I also got her stuck in a wall at one point and she kept getting hit over and over, like, 5 times a second going "OH GOD MAKE IT STOP!" Let's hope Dash had better luck.
Holy crap I think I'm done with this stupid, long, uninteresting post. Let's hope next week doesn't have anything interesting or noteowrthy in it that will require a simi- oh, wait… sigh.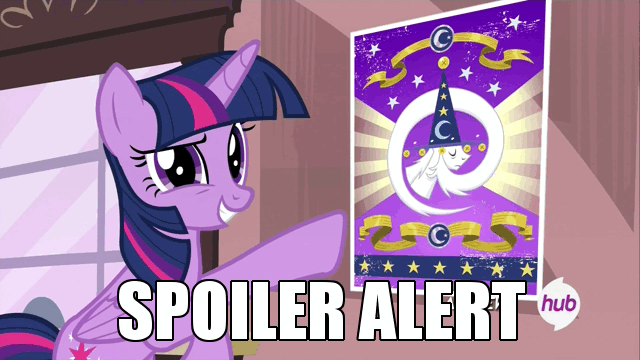 Well, here's to hoping that episode is worth all the hype. I'm going to go rethink my life… again.
---
I got a page get with this thing? Ugh, okay, I guess this page is cursed now. I'll post some Zecora to remedy this.


…I think I made things worse, guys.
Last edited Jan 26, 2014 at 08:29AM EST