Last posted Nov 10, 2009 at 10:52PM EST. Added Nov 10, 2009 at 03:29PM EST
27 posts from 11 users
in this world..
your thoughts guys..
No reason.
Really.
Either science (nothing) or any given religion (The god/gods is/are bored).
We are here on the Know Your Meme website to document existing memes on the internet.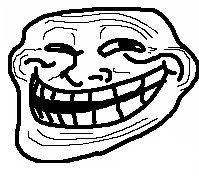 I am here because in a hypothetical 'nothingness' there are infinite possibilities. Amongst these infinite possibilities there is the very insignificant possibility of existence, because of infinity this insignificant possibility must occur no matter how insignificant. I am here because it is possible (proved by actually being here) and in infinity anything is possible. It is like the improbability of finding a needle in a haystack, but from the point of view of the needle so impossible not to, and impossible for the needle to make any sense of it being lost. It would be more accurate, if not confusing to ask; why would we not be here? In fact I could argue that I am more NOT here then I am here(i.e. mass is rest energy, perception of time is relative…etc) But if that isn't what you meant then…umm…well…I'm still young and I like weed so I haven't killed myself yet.
@ dyolf
You're like Jack Sparrow, a hippie, and a psychologist combined just because of that one post. I want some of that weed your smoking.
I'm here to kick ass and rock and roll.
Any other reason would be a waste.
"I don't know man… But it keeps me up at night."
- Grif, Red vs. Blue
I'm here to kick ass and rock and roll, and i'm all out of kick ass.
@Frketson
All out of kick ass?
Here's a new canister of it for you.
Well, if anyone needs it, I've got an extra can of whoop ass:
@Blubber & Jostin

/b/ is attacked regularly, most times the attackers fail.
This is no big news.
but this time its sewious!!
I was placed upon this humble earth to become a conqueror.
They'll give up eventually.
/b/ can not live or die.
They'll give up eventually.
/b/ can not live or die.
true
Yes, sewious indeed…
Yo, don't talk shit about Wonder Pets.
Can i say SHOES from wonder pets are dumb?
so.. why are we here?
42.
@tom
No. No.
No.
42 = Answer to "Big Question"
"Big Question" = ???
Boy, someone knows his children's fiction well.
Why don't you tell us about the Berenstain Bears while you're at it, Joe.