there are a lot of awesome video games that a lot of people missed because they didn't get good publicity.
everyone has an underrated game or two that they absolutly love.
so i think it would be a good thread for sharing underrated video games, so that all can enjoy their undiscovered goodness
here's how it should work:
-user posts about an underrated video game that they like and explain why they think the game is awesome. should also provide with download links or somesuch.
-other users download that game and give it a try. and then review their experience.
NOTE: this is for REAL underrated games, not famous ones like rocket knight or splatterhouse. this is for those games people barely know about.
so ill stat with my two games:
Hexen II:

An amazing FPS set in medival fantasy world, it's most interesting aspect is that you can free roam between levels. instead of just going a straight path there is a long series of puzzles and and require you to backtrack from level to level, untill you get to the next world – very much like metroid.
you can choose from 4 different classes that each has it's uniqe weapons and abilities.
you have a wide veriety of artifacts you can collect and use to turn the tide of battle in your favor.
the enemies in this game are what truly make this game awesome. instead of braindead bots who just go forward the enemies are very tough and challanging, you will always need to be on your toes because they will throw a new trick at you at every turn.
i really recommend downloading this game.
you can get it for 2$ on staem but i wouldn't recommend it since ID didn't do anything to make this game run properly on modern machines.
i would suggest to download it form an old games websites, it's easy.
second game i would like to suggest is Doom Troopers on the SNES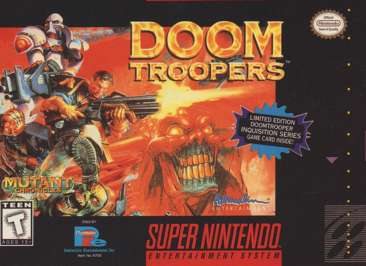 a great side scroller. the graphics for the SNES are awesome, especially with all the gore and mutilations
in the game you have cool moves instead of just shooting, you have a melee attack and a grab move.
every enemy requiers a different strategy to beat and aproaching an an enemy in the wrong way will hurt a lot. so there is a good bit of tactics and strategy invloved as well as shooting and spilling blood.
download the game from any emulation website such as rom-world.com
so any underrated games you have to recomend?
Last edited Aug 27, 2013 at 11:25AM EDT