Last posted Sep 04, 2010 at 04:01PM EDT. Added Sep 03, 2010 at 08:16AM EDT
46 posts from 20 users
lololololoolooloolollolololololololololololoolololololoololollol
Recap of what happned while you were gone: We are now all women.
Escape while you still can P-apple!
RUN POONAPPLE RUN!
@Stoffe Yeah that's pretty much what happened.
Yeah things here at KYM have turned for the worse, either your a Hentai girl or some sorta fur faggot(YIFF IN HELL).
My Avatar is actually satire of that.
Last edited Sep 03, 2010 at 12:32PM EDT
I am not a Hentai girl or a fur faggot, but I know a hentai girl or a fur faggot that would be upset if they read this post…
We don't have any hentai girls on this website, only pseudo-lolis.

Well the "Yiff in hell" was not suppose to be friendly.
Last edited Sep 03, 2010 at 03:43PM EDT
Hey there Poonapple. I trolled as you in the IRC a couple times, hope you don't mind.
@Sweatie
KILL THE HERETIC HE WANTS TO DESTROY QUEEN MELLOW!!!!!!
If you all turned into girls, am I not a pterodactyl anymore?
Sweatie Killer, my office NOW!
@Watcher
I guess that would be offensive to furrys you know what I mean?
Last edited Sep 03, 2010 at 03:51PM EDT
Girls or furries? I'd prefer not to choose.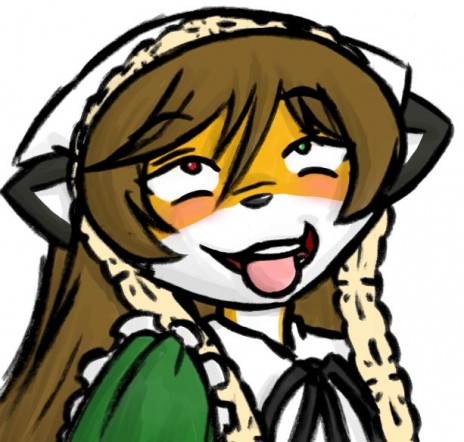 Poon is back? Looks like it's my time to leave n_n
oh god WEEABOOS AND FURRIES!?!?!?

Btw, hi Poon
@Watcher
duuuuuuude,your a furry?

Last edited Sep 03, 2010 at 05:17PM EDT
Watchers a furry?
IT'S FUNNY BECAUSE WE ALL KNOW THIS NOW
I dont think I got that memo.It is possible to like wolves and NOT be a furry.
Last edited Sep 03, 2010 at 06:48PM EDT
Whats wrong with furries? There are fuckin serial killers, rapist, drug dealers, and terrorists in the world today and you guys are worried about a furry? I have no problem with em, so long as they dont start a cult and fuck animals. Furries are nice people, they have their own imaginations like every1 else.
Terrorist are not a problem, the usa takes care of them, Furries are hell bent on world domination.
@Travis
U mad cuz we be trolling on u.
Notice how Dr. Maggot and Richie's Ghost (both trolls) are conveniently once again active as well.
Yes, all is going according to plan.
You just don't give up on this one, do you?
One…………….. eye……………..
desu
How cute, newfags making friends. :3

And what does Furseiseki have to say about that?
I know you guys are trolling and like always I dont give a shit. I just wanted to get that out there. :)
Thats true, but have you seen the school systems, and how they treat people, that is our future, good luck with that.
Thats nothing compared to those shit prices at Walmart.
and welcome back.
@Travis (ILuVKDyEr)
But wal-mart gives 400 jobs to emplyees atleast.
@Sweatie, But Valmart are better.
The main difference between slavery and a sweat shop is a few cents a day.
Anyways this was sorta predictable, and the outcome is pretty predictable too.
Last edited Sep 04, 2010 at 04:03PM EDT