Last posted Sep 05, 2010 at 09:47PM EDT. Added Jul 31, 2010 at 09:43PM EDT
86 conversations with 46 participants
MY ASS CAN SUCK MY DICK!!!!!! – Nick
WULWULWLUWWULWWULWLL – Ellis
"You make me touch your hands for stupid reasons"
A REAL person.
"something is what all true warriors strive fffffffooooooooooooooooooor!"
-by that one guy
OOOH
Get to the CHOPPA
''Arnold Schwarzenegger''
Last edited Aug 05, 2010 at 12:30PM EDT
"At least I have chicken."
-An old Klingon proverb (or Leeroy Jenkins IDK)
"Wait… Wait… Wait… I thought new Mexico was the capital of Mexico?"
-Stoffe von Rydell
Last edited Aug 05, 2010 at 02:14PM EDT
"Quicker then the wind and as still as a forest, hotter then the flames and more magnificent then a mountain!"
-Bang shishigami
"Have you ever fucked on Coccaine Nick?" – Sharon Stone.
"A monkey fucking a coconut."
-dane cook
"I'm more of a tentacle person myself."
ashbot
>:)
"No you don't understand. You're Mexican, and if you're mad, you're racist."
Some guy at school
DO A BARREL ROLL!
- Peppy Haire

"I lik boobis" – Sweatie Killer
"You are A PIRATE!"
- Bad Guy from Lazy Town

"A suitcase full of pistols and monaaaay!"
Coach
WHAT HAS SCIENCE DONE?!- Doctor Weird
Just by looking out my window I can tell we're pretty much fu-!!! (Static) – Unnamed Civilian, World in Conflict
Last edited Aug 18, 2010 at 11:50PM EDT
Undeniably the greatest quote ever conceived by mankind:
"Stupid dog! You made me look bad! Ooga booga booga!!" – Eustace Bagge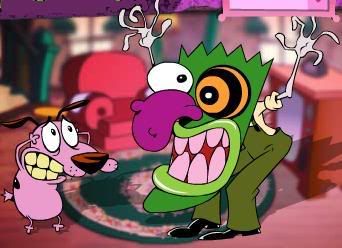 Go ahead, rage quit, do us all a favour!
-Scout
"Id rather have a bottle in front of me then a frontal lobotomy"-Tom Waits
Last edited Aug 19, 2010 at 06:01AM EDT
[EDIT: USER WAS BANNED FOR SPAM]
Last edited Aug 19, 2010 at 11:06AM EDT
"PILLS HERE!"
Louis, L4D.
"Me and my wife were happy for 20 years,then we met"

"Holy sh*t son your about as useful as a c*ck flavoured lollipop"
"Its behavior like that that gets a flaming bag of dog poop on your porch."
-Me
"We'll do it live!"
"There's no words there!"
"I'm not the only one staring at the sun"
-U2