Last posted Aug 02, 2009 at 11:58AM EDT. Added Jul 31, 2009 at 12:35AM EDT
13 posts from 5 users
You know what I'm talking about, everyones seen it, everyones talked about it, but is it memetic?
That's classic TV nostalgia.
The remixes and what not is what I thought of it to be maybe memetic.
Well, "This is your brain on drugs" was one of the most widely parodied PSA's in the 80's and 90's. It was parodied on nearly ever sketch comedy show around, on T-Shirts, other merchandise, in comics, all over the place. "This is your brain on drugs" was definitely a meme, but not an Internet Meme. The bulk of the activity happened prior to the Internet.
It's like "Got Milk?" or "Where's the Beef?" These things were already so present in our society that they were bound to be parodied or referenced online because they had long histories of parodies and references offline.
This article should help make it clear how big this was.
http://www.drugfree.org/Portal/About/NewsReleases/Fried_Egg_Message
Blubber,
Those are pretty good. And I've never even seen the original PSA's these are spoofing, so it's not like it's such a huge pop-culture that everyone everyone is immediately familiar with it. This looks like it could be a meme.
http://www.methproject.org/
Get the facts Chris, it could save your life.
By the way, I made one m'self
I've heard of the "This is Your Brain On Drugs" ad campaign, but not this new meth one you showed. I agree with Chris in saying that the parodies of the less notable "Meth: Not Even Once" campaign might constitute as a meme.
Likewise, I disagree with the idea that only meth-heads are attracted to microwaves. I say microwaves are sexy as hell, and I've never done meth! Heroijuana suits me just fine.
I'm so proud to see this site is attracting like-minded individuals.
You think microwaves are sexy too?:P
I was going to do an entry on these, but I couldn't find enough content to justify it as a meme even though they stand on their own without reference to the original campaign – they seem more satire and parody in their teeny tiny numbers, but if captain BANNED over there gets behind them some more than perhaps they will take off?
Maybe taking the piss out of drug campaigns is a meme though? Or maybe just good sport. Either way, I think the 'on meth it is' thingies are basically WTF type pictures, though not necessarily a derivative of them.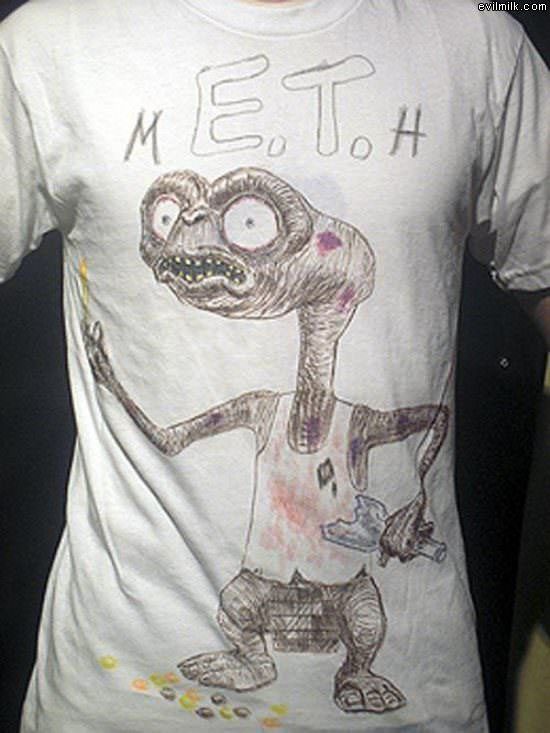 Hahaha