so, this is a rather germany-specific thing, but especially in the last 2 years these guys have gained some attention on the internet. "dr." axel stoll and mario heinz kiesel, both members of the NSL (new swabia) forum and self declared imperial germans (meaning that they believe that the federal republic of germany isn't a legitimate country, and that the german reich still exists), aka neo nazis. they believe in and spread conspiracy theories, like the "chem-trail" theory, the conspiracy of the allied forces to control and harvest the german population, a conspiracy about killing off 85% of the world population to ensure survival of the 15%, various theories about "space nazis" (the "races" are actually extraterrestrial races from different planets), nazis having flying saucer and space-travel technology, etc. etc.
they have gained somewhat of an online following, aside from their own "official" youtube channels (here , here , here and here ), there are channels entirely dedicated to spoof them and their rather ridiculous theses (here , here , here ,here and here ), and various fake/parody facebook and twitter accounts and pages (fb here , or here , twitter ), all with not too many subscriptions, likes or followers, but with a dedicated "fan" community, which spawned hundreds of parody clips, songs and images.
now, as i said, this is almost entirely limited to germany/ the german-speaking part of the internet, but the a nonetheless developing phenomenon as well as a very active community.
a book published in early 2014, about an interview with axel stoll, brought further attention to him.


He also made an appeareance on the infamous history channel: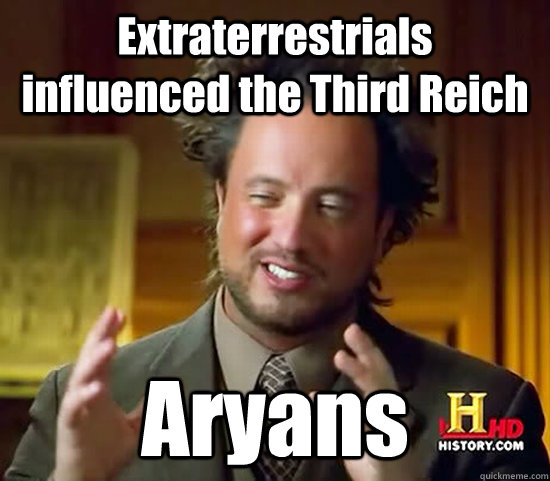 so, i dunno if this is too small to be entry-worthy, but it's definitely noticeable here.