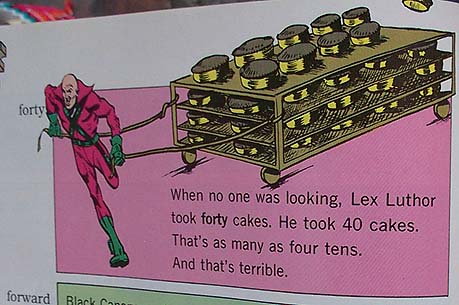 Hey folks.
Does anyone have any derivatives of Lex Luther and cakes? I've gathered enough info for an entry but I haven't gathered enough images/derivatives.
I've found a macrochan index.
http://www.macrochan.org/view.php?u=75VX5TQFB63T64KWOBPUKPG2N4WLLH3Y
(click "And that's terrible" in the tags section)
Some YTMNDs
http://ytmnd.com/search?q=lex+luthor+cakes
on digg
http://digg.com/celebrity/Oh_No_Lex_Luthor_stole_40_cakes
on Nextround.com
http://nextround.net/2009/05/27/lex-luthor-stole-forty-cakes/
on urban dictionary
http://www.urbandictionary.com/define.php?term=Lex%20Luthor
mentioned on gamespot forums
http://www.gamespot.com/ps2/rpg/persona4/show_msgs.php?topic_id=m-1-51135035&pid=945498
and the title of this video.
http://www.youtube.com/watch?v=OSKIWd6XZwQ
But without derivatives it's not a meme. Does anyone have something that would help me out?