Last posted Jul 16, 2012 at 11:42PM EDT. Added Jul 11, 2012 at 07:05PM EDT
30 posts from 28 users
I would, but I don't want your head to get swollen. That would cause medical complications.
Hey guys, insert joke about how big my e-peen is here!
Now give me all your karma.
I have a raging boner for you, RandomMan.
Happy birthday you swag son of a hare.
Last edited Jul 11, 2012 at 07:45PM EDT
Wait guys, I'm not sure… Is it safe to assume it's RandomMan's birthday?
HaPpY wRiGgLiNg DaY mOtHeRfUcKeR!


:o)
I'm fresh out of cake. Is a sacrifice of orphans a valid substitute?
Last edited Jul 11, 2012 at 09:35PM EDT
Happy Birthday, bro. Congrats on hitting 20 and I hope you have a good birthday and rest of the year.
I don't even know you that well but whatever…Have a great birthday!
should have told me I would of drawn a birthday picture.
This also goes for everybody else… I said this before.
20? Pffffff. Being 20 is sooooo 2007. Being 25 is where it's at.
(Happy birthday)
Happy 20th Birthday, Random. Here's hoping for another 20 more.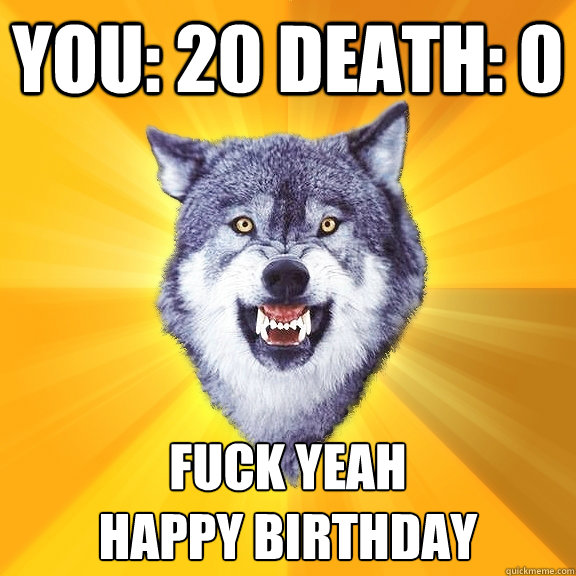 Here ya go, my OC for your birthday. Lelelelelelele
Congratulations on remaining alive for less than .0000001% of the existence of the planet! :D
Happy birthday, you silly little bunny!
I noticed no one has offered you any cake yet. Allow me.


You'll never guess the secret ingredient.
not sure if attention whoring, or it's actually your birthday.
I also got you some cake.


Happy Birthday!
Last edited Jul 12, 2012 at 12:50AM EDT
Happy Birthday you Rascally Rabbit.
Last edited Jul 12, 2012 at 01:20AM EDT
Yeah yeah sure, happy birthday, we love you, all that.
You crazy sunnuva bunny.
Dear, RandomMan
I am your biggest fan.
I love you tons
And I hope you're having fun.
I'd kiss you if I could
But thats gay, so I SHOULD!
Now come get your birthday blowjob.
I'm trying to find someone to give me a recommendation for EVE Online so I can get extra time, but the one guy I found can't get the E-mails to go through ;_;
FEEL SORRY FOR ME D:<
(by the way, would anyone here give me an invite for EVE?)