Last posted Dec 13, 2009 at 01:41PM EST. Added Dec 12, 2009 at 07:58PM EST
9 posts from 6 users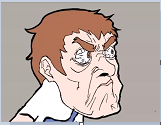 didnt lose
Saw it. Won.
Instantly thought of this:

actually he's saying 'boobies' not 'poop, pee'
:P
thats why its called the boobies dance lol
-
i saw this episode the other day and i had the closed captioning on(i have hearing problems) and it said boopie boopie not boobie boobie
oh, well it sounds strange. . .