PROTIP: Press 'i' to view the image gallery, 'v' to view the video gallery, or 'r' to view a random entry.
This submission is currently being researched & evaluated!
You can help confirm this entry by contributing facts, media, and other evidence of notability and mutation.
About
Nii-san (Japanese: ニーサン), also known as Pimping Ed or Ed Relaxing, refers to a series of exploitable images based on a screencap of Edward Elric, the elder of the protagonist brothers in the Japanese anime/manga Fullmetal Alchemist.
Origin
The original image can be found in the 1st episode of the 2003 anime series titled "Those who Challenge the Sun"[1], as Edward, slouching on a bench with his arms spread out and composing a relaxed posture, explains to Rosé Thomas the chemical makeup of a human.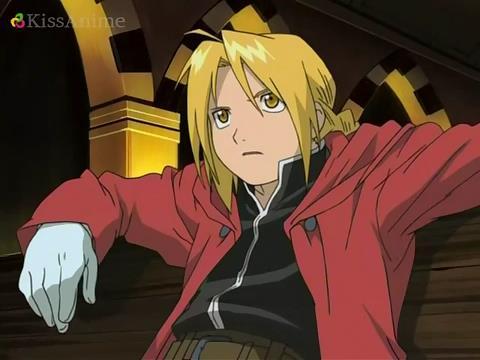 The scene can be found in the manga in the 1st chapter "The Two Alchemists", pages 15-16, although the spread-armed reclining pose itself is not pictured.
Spread
During a certain period in the middle of 2000s, that laid-back pose of Ed was a popular subject for photo collages, especially a harem exploitable, in nijiura borads in the Japaense anonymous imageboard community Futaba Channel (2chan). Because his younger brother Alphonse calls Ed "Brother" (兄さん, Niisan) throughout the series, it's considered to be Edward's adoptive name in the franchise. Besides, because Rie Kugimiya[2], the voice actor of Al, continued uttered this phrase in a bit strange pronunciation which sounds not "Niisan" properly but "Nīsan", lacking of the 2nd "i"'s pronounciation, this exploitable fad of Ed was called as "ニーサン" in katakana characters for representing its awkwardness. A private archive for this Futaba's fad has collected collaged photos in this series since October 2006. Around 2007, it started gaining popularity on anime forums in the English-speaking web.
This manner has also inherited to illustrators communities pixiv[3] and Nico Nico Seiga[4] in later. However, a few years afterward it became to refer to Junichi Kaito, an eccentric person in 2009's Kamen Rider title Kamen Rider Decade.[5] Thus, those searches include parodies or fan arts for both of them.
Notable Examples
Compilation[6]
Template
Illustrations

Left & Right: Touhou Project

Left: Kaito from Vocaloid | Center: Mario | Right: Zidane from Final Fantasy IX
Search Interest
[Not Available]
External References
Editor's Note:
Futaba relating websites basically prohibit people from introducing their URLs in the external. Do not write the URLs in articles or comments. Please use search engines.
Registration is needed to browse the original niconico videos listed in this section.
Recent Videos
There are no videos currently available.
Facebook Comments