PROTIP: Press 'i' to view the image gallery, 'v' to view the video gallery, or 'r' to view a random entry.
This submission is currently being researched & evaluated!
You can help confirm this entry by contributing facts, media, and other evidence of notability and mutation.
About
ニーサン(nii-san) a.k.a. Pimping Ed a.k.a. Ed Relaxing is an exploitable meme based on a screencap of the Fullmetal Alchemist character, Edward Elric, slouching on a bench with his arms spread out, composing a relaxed posture. Around 2007 it started gaining popularity on anime forums.
ニーサン (nii-san) is a Japanese polite term for "brother", which his younger brother calls Edward throughout the series. In the franchise, it is considered to be Edward's adoptive name.
Origin
The original image can be found in Episode 1 of the anime (Those who Challenge the Sun), as Edward explains to Rosé Thomas the chemical makeup of a human (3:58 in the video):
The scene can be found in the manga in Chapter 1 (The Two Alchemists), pages 15-16, although the spread-armed reclining pose itself is not pictured.
Usage
Because of his laid-back pose, ニーサン (Nii-san) / Pimping Ed / Ed Relaxing is often used as a harem exploitable. This is simply done by adding female characters into the shot; in Edward's arms.


He may also be with his pals.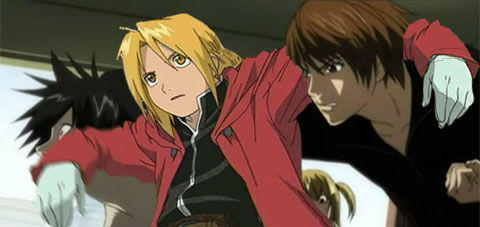 Or just having fun.

[still researching]
Recent Videos
There are no videos currently available.
Facebook Comments