PROTIP: Press 'i' to view the image gallery, 'v' to view the video gallery, or 'r' to view a random entry.
This submission is currently being researched & evaluated!
You can help confirm this entry by contributing facts, media, and other evidence of notability and mutation.

About
Animated Text is a single topic blog that showcases a series of 3D text banners featuring a colorful variety of words, phrases and expressions as requested by Tumblr users. Presented entirely in GIFs, these readymade responses can be also used in place of plain text to place an extra emphasis, much akin to the use of reaction images, in online conversations.
Origin
The 3D block letter style was first introduced by Brooklyn-based graphic designer Catherine Frazier[2] in October 2012, when she began sharing her collection of GIFs, including a few GIFs of 3D text objects, to her Tumblr art project TransparentGIFs.[9] Shortly afterwards, Frazier launched a separate blog entirely dedicated to the block letter GIFs at Animated Text[1], where any Tumblr user can request a phrase or expression for her to immortalize in GIF form. Since launching in November 2012, Frazier's blog has garnered more than 57,000 followers in just over a year.
Spread
In May 2013, Frazier's GIFs were featured on several internet humor and culture blogs, beginning with BuzzFeed's compilation[6] post on May 10th, followed by Gawker's highlight[5] on May 21st and The Daily Dot's report on the next day. In an interview with The Daily Dot[7], Frazier explained that she was inspired to start the project after being inspired by the aesthetics of the old 90s websites
"Here were websites with people who did not consider themselves designers but felt empowered enough to make a flaming 'My boy is hot' text GIF or 'The O'Neals' text animation and put it on their family reunion homepage. … "That's why I decided to make animated text requests for my followers, many of whom don't feel empowered [by] creativity because they're not designers. I also like the idea of collaboration on the Internet. My followers' role in contributing text requests is just as important as my role the creator."
Notable Examples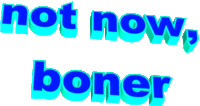 Search Interest
[no relevant data available]
External References
Facebook Comments