PROTIP: Press 'i' to view the image gallery, 'v' to view the video gallery, or 'r' to view a random entry.
This entry has been rejected due to incompleteness or lack of notability.
To dispute this DEADPOOL flagging, please provide suggestions for how this entry can be improved, or request editorship to help maintain this entry.
About
Down Syndrome Sonic (also known as Lazy Eye Sonic or Gormless Sonic), is a minor meme about a weird-looking Sonic the Hedgehog, seen in a Sonic 3D Blast prototype.
Origin
Sonic 3D Blast is a video game in the Sonic the Hedgehog series, released in 1996 as the last Sonic game for the Sega Genesis console. The game featured an isometric perspective and 3D gameplay that differed from previous titles (Sonic had to destroy badniks to collect Flickies, and guide them all to a giant ring to proceed in each stage). A Sega Saturn port with enhanced graphics and a different soundtrack was also released.
Here's how Sonic looks like in the Main Menu:
The Picture
In February 23, 2008 a certain prototype (dubbed the 825 prototype) of the game was released by Sonic Retro member drx. Dated August 26, 1996, this prototype featured a very particular, derping image of Sonic in the Main Menu screen:
In the picture, Sonic's eyeballs look crosseyed, and if one looks closely at his mouth, he's drooling, or about to. The gun-like position of his hand (also present in the final, non-crosseyed version of the picture) adds to the mix. Sonic Retro members had made fun of this screen, and made a short photoshop contest featuring the picture (the original thread can be found here). People in other websites (mainly prototype discussing forums, among others) were amused after seeing this picture and have also edited different photos to put Sonic's head in. The developers of the game fixed the background in the next betas and the final game, probably because they realized how weird the Sonic head was.
This Sonic head also appears in the Tech Demo of the Sega Saturn version. The background looks more detailed here and the picture looks clearer.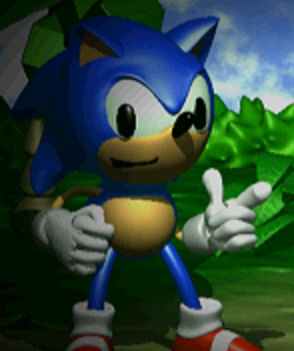 Spread
This meme has also appeared in some other forums and image sites, however, it didn't achieve a notorious popularity outside of Sonic Retro. Its popularity was also notably short, and it's not as commonly found as it used to be, that's why it's considered a minor meme in the Sonic community.
Usage
Down Syndrome Sonic's head is commonly used as a comedic factor, with people placing the head over pictures to make them look stranger and/or funnier. Another practice is editing a screenshot of Sonic's face from other games and placing his eyes far apart, resulting in a "down syndrome" face. Here are some examples:
Eggman's Gay Circus / Theme of Down Syndrome Sonic
In the same Beta the DDS picture was found, there was also an unused track in the Sound Test (Track #12) that was deleted from the final game. The track is often speculated to be an unused boss theme. A less developed version of the music also appears in an earlier beta (819 prototype). Both are shown below:
This music is often made fun of, as it's considered too silly to be a boss theme, and also because of its repetitive nature. Most people refer to it as "Eggman's Gay Circus" (as it sounds a bit like circus music), and others consider it as Down Syndrome Sonic's theme, not only because it appeared on the same protoype as the picture, but also because it's considered dumb and ridiculous, just like Down Syndrome Sonic.
Amunsingly, this previously unused track was reused by SEGA as the first Boss theme in Sonic the Hedgehog 4: Episode I (shown below). This version is even more silly because of the instruments used, commonly referred to by people as "dying cats" (because it sounds like a cat when it meows in some parts).
Facebook Comments