PROTIP: Press 'i' to view the image gallery, 'v' to view the video gallery, or 'r' to view a random entry.
This submission is currently being researched & evaluated!
You can help confirm this entry by contributing facts, media, and other evidence of notability and mutation.
About
Emoji are graphical images depicting a wide range of facial expressions, symbols and objects which can be used to convey certain emotions or phrases in SMS and instant messaging, similar to their precursor, emoticons.
Origin
The original set of Emoji, consisting of 172 ideograms framed in 12×12 pixel squares, were invented by Japanese mobile software engineer Shigetaka Kurita in 1998 and officially released as part of NTT DoCoMo's mobile internet platform i-mode in February 1999. In the following years, i-mode was met with huge success in Japan, reaching 40 million subscribers by 2004 and leading other domestic competitors to launch similar services with their own sets of Emoji-like characters.

Emoji made their international debut in November 2008 with the release of iPhone firmware 2.2. Although they were meant to support Emoji for Softbank iPhone users in Japan, five days later, iPhone news blogger Simon Ng published an English-language guide[1] on how to enable Emoji characters appear on jailbroken iPhones in all countries. In December, Ng released another guide on how to unlock Emoji on a regular iPhone appeared online.[2]
Spread
Between late 2008 and early 2009, Numerous Emoji-unlocking apps began appearing in the iTunes Store, prompting Apple[3] to issue a takedown order on Emoji-unlocking apps, presumably on account of licensing issues. However, as of September 2012, there were 13 apps[4] that will unlock Emoji keyboards in the iTunes Store, some for-purchase and others available for free.

Despite the international success of Emoji, the term has often been misinterpreted in the English-speaking world as synonymous with text-based emoticons. The earliest semantic distinction was made by Urban Dictionary[13] user le anime nerd on July 5th, 2013, simply referring to them as "tiny pictures you can put on your texts." In addition to their widespread usage in text messaging, Emoji have become increasingly visible on Facebook, Twitter and other mobile-enabled microblogging services. On July 4th, 2013, EmojiTracker[11][12] was created to track the growing use of Emoji in real-time on Twitter.
Notable Examples
iTunes and other mobile app stores offer a variety of Emoji collections for purchase and download, including theme-specific packages like the Christian-themed "Holy Emojis" and Harry Potter-themed packages.[14][15]
iDiversicons
On June 24, 2014, the iDiversicons app,[23] which calls itself "The First Diverse Emoji" was released to the Apple Store by Cub Cub Investment. The app was released for Android phones through the Google Play[24] store the following day. The app includes over 900 icons which represent diversity through a variety of categories including people of color, same sex couples and women in male-dominated fields. Though the icons can now only be inserted in texts by using copy and paste, creator Katrina Parrott hopes to to make it available through the keyboard in the future. On July 21st, The Daily Dot published an article on the app and Parrott, titled "The one-woman mission to diversify emoji." The following day the app was covered by Jezebel[25] and Bustle.[26]

Related Memes
Emojidick
On Sep 19th, 2009, Kickstarter data engineer Fred Benenson launched a Kickstarter[19] campaign to fund a translation of Herman Melville's classic novel Moby Dick into emoji. The project reached their funding goal of $3,500 on October 19th, surpassing it with over $3,600. The books was published in 2010 and is currently available for purchase as a black and white paperback for $40 or as a hardcover book in full color for $200.[20] The completed book has a total of 736 pages, while the text version contains around 500.[22]
Narratives Told Through Emoji
The Tumblr blog Narrativesinemoji,[21] which features the plots of television shows, movies, and even events like the SXSW festival explained through emoji filled texts, uploaded its first screenshot on October 19th, 2011. The Tumblr currently has over entires 40 entires as of January 2014.

Song Lyrics Told Through Emojis
The Tumblr blog emojilyrics,[6] which features the lyrics of pop songs explained through emoji filled texts, uploaded its first screenshot on December 4th, 2011. A similar Tumblr, emojisinging,[7] was created in 2012. A Buzzfeed Community post titled, "23 Famous Movies And Songs Reenacted In Emojis",[8] which collected popular examples, was published on February 5, 2013.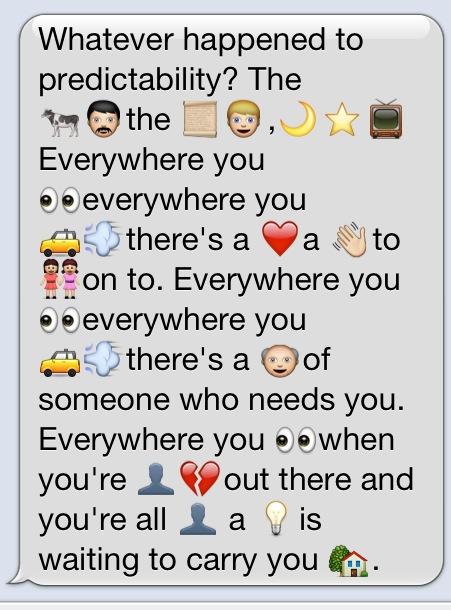 Movie Plots Told Through Emojis
The Tumblr blog emojiplot,[9] which features screenshots of texts that explain the plots of popular movies through emojis, uploaded its first screenshot on December 9th, 2011. The popularity of movie plots told through emojis spiked after Fail Blog[5] posted an emoji summary of the plot of the recent film adaptation of Les Miserables on January 3rd, 2013. On January 11th entertainment website Uproxx[10] published a post titled, "Can You Identify These 8 Movies From Their Emoji Plots?", which collected some of the most popular Emoji explanations.

#EmojiArtHistory
#EmojiArtHistory is a Twitter hashtag associated with various strings of emoji characters that are supposed to be reinterpretations of famous artworks throughout history.

Human Emoticons
On January 4th, 2014, Innocence en Danger, a child advocacy group based in France, posted images from a campaign featuring "human emojis."[16] The campaign is meant to illustrate the threat pedophiles pose online. Several American based websites such as Buzzfeed[17] and Bustle [18] covered the campaign on January 17th.


New York Emoji Art & Design Show
In December 2013, New York City's digital art collective Eyebeam announced an art and design show dedicated to the medium of Emojis, featuring original works in a wide range of mediums from digital prints and sculptures to video and performance art presented by 23 artists. The exhibition will be on display at the Eyebeam Art+Technology Center in Chelsea, Manhattan from December 12th to December 14th.



Search Interest
External References
Facebook Comments