PROTIP: Press 'i' to view the image gallery, 'v' to view the video gallery, or 'r' to view a random entry.
This submission is currently being researched & evaluated!
You can help confirm this entry by contributing facts, media, and other evidence of notability and mutation.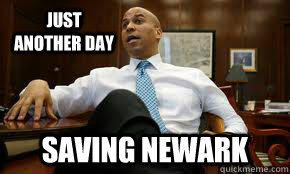 Overview
#CoryBookerStories is a Twitter hashtag that began trending after Newark, NJ mayor Cory Booker rescued his female neighbor from a house fire. These tweets portray Mayor Booker as a Chuck Norris-like figure,
Background
On the evening of April 13th, 2012, Newark mayor Cory Booker arrived at his home to find his next-door neighbor's house on fire. Upon noticing flames and smoke coming from the second floor of the building, Booker rushed in with several members of his security team to evacuate the residents.[10] When Booker learned that someone was still left inside, he told Newark Police Detective Alex Rodriguez that he was going back in to help them escape.[9] The mayor grabbed the woman from her second-story bedroom, managing to safely remove both of them from the fire. The mayor and the woman were treated at separate hospitals for second degree burns and smoke inhalation.[11] After the incident, Booker tweeted out a message on his personal account[12] to over one million followers stating that he was okay.
Thanks 2 all who are concerned. Just suffering smoke inhalation. We got the woman out of the house. We are both off to hospital. I will b ok

— Cory Booker (@CoryBooker) April 13, 2012
Development
Merely two hours after the event, the single topic blog Super Cory Booker[3] was created, featuring image macros portraying the mayor as a superhero. The next morning, the hashtag #CoryBookerStories[1] began to appear on Twitter, featuring hyperbolic stories of Booker's greatness in the style of Chuck Norris Facts. The Wall Street Journal curated several of the best #CoryBookerStories on Storify.[8] Within the first 24 hours, these tweets reached over 2.3 million users.[13]

The hashtag was covered on news sites the Baltimore Sun[4], the Huffington Post[6], The Star Ledger[14], the Metro[15], MSNBC[16], Business Insider[7], TIME Newsfeed[18] and the Guardian[17] as well as tech blog Mashable.[2]
On the afternoon of April 13th, Booker acknowledged the hashtag, thanking users for the smiles in light of a serious situation.
Grateful to #CoryBookerStories 4 bringing smiles. Fire safety, however, is a serious matter. More info: 1.usa.gov/oIDe1f

— Cory Booker (@CoryBooker) April 13, 2012
Twitter Feed
Personal Life
Cory Anthony Booker[5] (born April 27th, 1969) was elected the mayor of Newark, New Jersey in 2006. A Democrat, Booker previously was a Newark City Councilman from 1998-2002. He earned a B.A. in Political Science and a M.A. in Sociology from Stanford University before spending two years studying at Oxford. In 1997, he earned a J.D. from Yale Law School.
Booker is known for his commitment to Newark, with crime significantly dropping in the city since he took office.[19] He also lives in Newark's South Ward, a reportedly tough part of the city. Booker also maintains a strong presence on Facebook[22] and Twitter[12], where he regularly interacts with residents as well as users from across the globe. During a blizzard in December 2010, the mayor responded[20] to Newark constituents who were snowed in via Twitter, going to several local homes to help dig a person's car out for a medical procedure. His interaction and quick responses caused TIME[21] to deem him "social-media superhero."
Search Interest
Search for Cory Booker and Twitter peaked in December 2010 when he was using the site to help residents during the blizzard.
External References
Facebook Comments