PROTIP: Press 'i' to view the image gallery, 'v' to view the video gallery, or 'r' to view a random entry.
This submission is currently being researched & evaluated!
You can help confirm this entry by contributing facts, media, and other evidence of notability and mutation.
About
The Internet Cat Video Film Festival is an annual festival dedicated to cat videos shared online. The first festival was originally organized by blogger Katie Czarniecki[23] at the Walker Art Center in Minneapolis, Minnesota, on August 30th, 2012, but expanded to multiple locations in 2013 due to its popularity.
Background
On May 31st, 2012, blogger Katie Czarniecki announced[1] that she would be hosting a film festival dedicated to online cat videos at the Walker Art Center, a reputable modern art museum located in Minneapolis, Minnesota. Anyone could submit a video for consideration through July of that year. By August, nearly 10,000 submissions had been received.[3]
Notable Developments
News Media Coverage
Between June and August 2012, news about the upcoming event gained the attention of various news outlets on both local and national levels, including BBC[4], CBS[5], ABC[6], Salt Lake Tribune[7], Huffington Post[8], Philadelphia Daily News[9], Buzzfeed[10], Gawker[11] and Mashable.[12]
First Internet Cat Video Film Festival
The outdoor screening event was held on August 30th, 2013 during a cultural festival known as Open Field[2] at the Walker Art Center. In total, 79 videos spanning more than an hour in length were shown, featuring various categories including comedy, documentary, animated and foreign, among others. Due to the nature of the festival, leashed cats were also invited to attend. The event drew in an estimated 10,000 people and was covered by the New York Times[13], Buzzfeed[14], StarTribune[15], CBS[16] and Babble.[17] After the event, Walker Art Center compiled the videos into a YouTube playlist[24], which has been viewed more than 1 million times as of August 2013.
The event also included a People's Choice award to honor popular cats in internet culture. Nominations included Maru, NONONONO Cat, Kitten Hugging Mom Cat, Dubstep Cat, Nyan Cat and the Talking Cats. The grand prize went to "Henri, Paw de Deux" (shown below, left), the second installment of the Henri, Le Chat Noir series. The creator, William Braden, received the Golden Kitty Award (shown below, right).[18][19]
2013 Cat Film Festivals
In the fall following the first festival, the organizers held mini-festivals in Boston, San Diego and Memphis[29] before expanding to larger festivals held in Oakland[30] and Portland in early 2013, along with a panel about the success of the first festival held at South By Southwest.[28] The second annual Internet Cat Video Festival was held at the Minnesota State Fair on August 28th, 2013 with 70-minutes worth of videos shown to an estimated 10,000 attendees[34] The videos were simultaneously streamed online by Animal Planet.[33]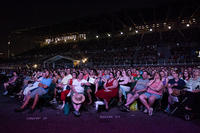 Many well-known internet cats attended the festival, including Lil Bub and Pudge. The event was covered by The Telegraph[35], Global News[36] and Today[37], among others. For 2013, there were five nominations[38] for that year's Golden Kitty Award, which was awarded to Grumpy Cat[39] (shown below, left) for her first video. Two Lifetime Achievement awards were also awarded to Nyan Cat and Keyboard Cat (shown below, right). The 2013 videos are scheduled to be shown at 15 local festivals and events including ones in Brooklyn[31], Chicago, San Francisco, Michigan[32] and Ireland throughout the rest of the year.
Twitter Feed
The official Twitter Account for the Internet Cat Video Film Festival is @catvidfest[20], whereas tweets related to the various festivals also make use of the hashtag #catvidfest[21], which has been used on Twitter more than 3,800 times as of August 2013.[25] #Catvidfest can also be found as a tag on Tumblr[26] and Instagram.[27] The hashtag was also used during the 2012 first Cat Video Film Festival so viewers could send in votes for the Best in Show, using corresponding numbers of the submissions that were shared on the blog of the Walker Art Center.[22]
Search Interest
External References
Facebook Comments