PROTIP: Press 'i' to view the image gallery, 'v' to view the video gallery, or 'r' to view a random entry.
This submission is currently being researched & evaluated!
You can help confirm this entry by contributing facts, media, and other evidence of notability and mutation.
Overview
SNCF Fail refers to an investment by the French rail company SNCF in which they purchased new cars and trains for 80 million euros which were found to be too large for the platforms. The blunder inspired a surge of tweets and image macros mocking the purchase on the French web in May 2014.
Background
On May 20th, 2014, the French news outlet Le Monde[1] published an article from the French satirical newspaper Le Canard Enchaîné. The article reported that the French SNCF made a blunder by ordering upwards of 80 million euros of new railway cars that were 20 cm larger for passenger comfort. They were eventually found to be too large to run safely on the railroads and platforms that weren't adapted to the change. An additional 50 million euros had to be paid in order to change the platforms across France to accommodate the larger trains.
Notable Developments
News Media Coverage
The same day, other media throughout the French internet relayed the information, including Focus Sur[2] or Quoi De News[3], even making TV headlines on French channel France 2:
According to a followup article by Focus Sur[4], Twitter users were the first to mock the situation by tweeting jokes and image parodies, dubbing it the "SNCF Fail". In the coming days, other news sites reported on the controversy, including Le Nouvel Observateur[5], Tuxboard[6] and The French Huffington Post.[7]
On Twitter
Many brands jumped on the occasion to promote their product by mocking the event, including the snack product company Curly and the beverage company Innocent France.
Marc Dorcel's reaction
One of the most famous tweets comes from Marc Dorcel, a famous French porn producer and director, founder of one of the most well-known French porn companies, that featured famous retired actor Rocco Siffredi: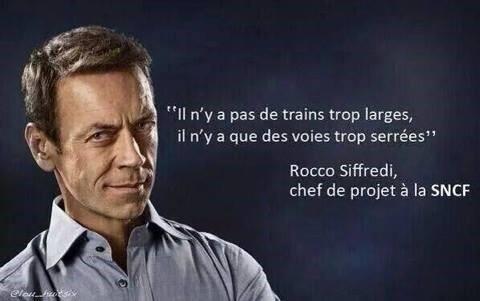 "There are no trains that are too big,
there are only railroads that are too tight."

- Rocco Siffredi, SNCF's Project Manager
Parodies
More can be found with the hashtag #SNCF[8] and #SNCFail[10].
External References
Recent Videos
There are no videos currently available.
Facebook Comments