PROTIP: Press 'i' to view the image gallery, 'v' to view the video gallery, or 'r' to view a random entry.
This submission is currently being researched & evaluated!
You can help confirm this entry by contributing facts, media, and other evidence of notability and mutation.
About
Fetli Kid (real name: Francisco) is a popular foreigner that got remixed first but later mostly dubbed on YouTube from Daniel Fohrler[1]'s earlier talkshow Fohrler TV on the private swiss program TV3[2] that was aired from September 6th, 1999 until December 12th, 2001. The famous episode called Jugend und Gewalt (english: Youth and Violence) is still watchable on YouTube but in parts.
Origin
When the foreigner stood up, he announced about his life and his war. But everything he said, had nonsence. His phrase Wotsch mini fetli ha? is very popular on switzerland.
(Go to 5:24 on the video down below:)

Spread
The earliest remix is MC Fetli – Wotsch min fetli ha? which was uploaded by the YouTuber MastaofDisasta[3] on the August 12th, 2006 but made in 2004.

The earliest dub is gipfeli (english: Croissant) which was uploaded by the YouTuber Ale71727[4] on the January 11th, 2007.

Swiss-german Transcript
Kid: Sorry, hend ehr kei ahnig was bedütet krieg ond was bedütet schlägle? Chand ehr vo mehr höre. Ech be im krieg gsi, ech ha alles erläbt. Ech han bewisi. Wend ehr luege? Lueg! Pistoleschoss, bombesplitter, ech han alles erläbt. Ech han no familie verlore.

Daniel: Du hesch das erläbt?

Kid: Ja

Daniel: Abr wiso fendsch denn du das rechtiger?

Kid: Wenn epper jepper so scho schräg aluegt, denn gangi vor en und frögi en: Wetsch mini fetli ha oder so? Wottsch min fetli ha? Wenn er eppis seit: Wotsch mech aficke oder so? Ich schlan dri, isch mir scheissegal, i schlan dri. Wenn er luegt wie schwul a, schräg.
English Transcript
Kid: Excuse me, don't you know what war means and what pounding means? You can hear it from me. I was at war, I have experienced everything. I have evidences. Do you want to take look? Look! Gunshot, shrapnel, I have experienced everything. I even lost my family.

Daniel: You have experienced this?

Kid: Yes.

Daniel: But why do you think that is more correct?

Kid: When someone looks at someone, then I'm standing in front of him and ask: Do you want my fetli or thus? Do you want my fetli? When he says something: Do you want to fuck me on or thus? I'll beat him, I don't care, I'll beat him. When he looks at me like a gay, angular!
Examples
Fetli Kid Today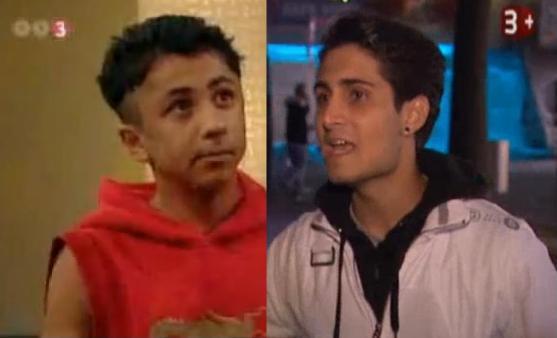 The Fetli kid's real name is Francisco, is 21 or 22 years old (2012) and he lives in Pratteln in the canton of Basel-Country in Switzerland. In 2010 he joined with his friend Gabriel 3+[5]'s reality-docu show Jung, wild & sexy[6] for teenagers over 16 years old. In 2012 they will start the third season.
External References
Recent Images
There are no images currently available.
Facebook Comments