PROTIP: Press 'i' to view the image gallery, 'v' to view the video gallery, or 'r' to view a random entry.
This submission is currently being researched & evaluated!
You can help confirm this entry by contributing facts, media, and other evidence of notability and mutation.
About
Fuck! I'm in My Twenties[1] is a single topic blog run by Emma Koenig depicting her life experiences living in New York City through handwritten notes or drawn stories relating to the search for a perfect job, relationships and other coming-of-age woes.
Origin
The "Fuck! I'm in My Twenties" blog launched on May 17th, 2011 with three handwritten entries by Emma Koenig[4] on being a twenty-something living in Manhattan. The first post (shown below, left) lists five ridiculous answers to questions about one's profession, the second (shown below, center) illustrates the author's conception of what it means to live an adult life in New York city and the third (shown below, right) provides a dating scorecard of the author throughout different stages of the relationship.
Spread
One of the first blogs to feature Fuck! I'm in My Twenties was Workbook Project[2], as part of their Radar NYC section, on May 26th, 2011. Over the next few months, the blog was featured on Hipstercrite[3], Trend Hunter[5] and the Urban Outfitters blog.[6] The first spin-off blog, Fuck! I'm in My Thirties[19] launched in July 2011, but ceased posting in April 2012. By November 2011, the blog had been offered a book deal[7] and a $10,000 advance from Chronicle Books. It was published nearly a year later on September 1st, 2012.
On July 26th, 2012, the New York Times[8] published a profile on Emma Koenig, a 24-year-old aspiring writer who had recently moved out of her parents' home in Glen Ridge, New Jersey to Manhattan. In the following days, Jezebel[9], the Huffington Post[10], the Atlantic[11] and Forbes[12] also profiled Koenig and her blog. In October 2012, a second spin off blog titled "Fuck! I'm in the twenties" launched, parodying the blog as if it took place in the 1920s.
Notable Examples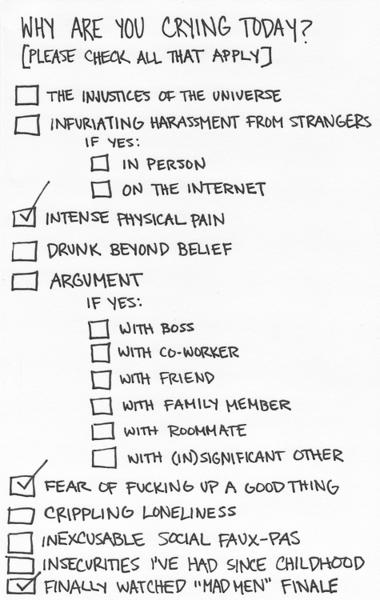 Sitcom Adaptation
In October 2012, it was announced that a sitcom pilot based on Fuck! I'm In my Twenties[13] was being developed for NBC. The half hour comedy would follow the exploits of a twenty-something female character living in New York City and would be co-written by Koenig and Jeff Lowell.[14] News of the sitcom deal was posted on the Huffington Post[15], the Daily Dot[16], Deadline Hollywood[17] and Brokelyn.[18]
Search Interest
External References
Recent Videos
There are no videos currently available.
Facebook Comments