PROTIP: Press 'i' to view the image gallery, 'v' to view the video gallery, or 'r' to view a random entry.
About
"HA HA HA, Oh wow" is an expression that is used to mockingly express disbelief and astonishment, most notably in the form of a two-pane reaction image based on a comic strip from The Adventures of TinTin.
Origin
The Internet culture wiki Oh Internet[2] claims that the phrase "Ha Ha Ha, Oh Wow" first gained notoriety on 4chan circa 2007 with a two-pane comic taken from a 1950 edition of the daily cartoon series The Adventures of TinTin,[1] in which the character Captain Haddock laughs hysterically at the idea of a person landing on the moon (shown below, left).
Spread
On June 22nd, 2008, the edited comic was posted to a Pokemon thread in the /a/ (anime and manga) board on 4chan.[7] On March 24th, 2009, SuperHeroHype Forums[8] member Rac posted the image macro in response to fellow member Space Moose's statement that the 2004 remake of the Dawn of the Dead horror film was "one of the greatest movies ever." On April 20th, 2010, an encyclopedic page for "HA HA HA! Oh, wow" was created on the Internet culture wiki Lurkmore.[4] On May 28th, DeviantArtist[5] Vorkedlarfleeze uploaded a remixed version of The Adventures of TinTin panels with cutouts from an issue of Andrew Hussie's webcomic series Sweet Bro and Hella Jeff known as I Told You About the Stairs (shown below).
On May 28th, 2011, a Facebook[6] page titled "Hahaha OH WOW" was launched. On October 12th, YouTuber Dunkmaster Ren uploaded a video titled "HAHAHA OH WOW," which featured an illustration of a trollface sitting at a computer accompanied by a background track of several people laughing (shown below, left). On May 27th, 2012, YouTuber LinuxFP uploaded a video titled "HA HA HA OH WOW" featuring a girls laughing photograph accompanied by a chiptune song playing in the background (shown below, right). On March 26th, 2013, IGN Forums[11] member CoconutScissors submitted a thread titled "ha ha ha Oh Wow so True!," which included a customized Charlie Brown comic along with The Adventures of TinTin comic panels.
Notable Examples
Many variations of The Adventures of TinTin comic have been uploaded to the image-hosting site Macrochan under the tags "ha ha ha oh wow"[9] and "Haddock drinking."[10]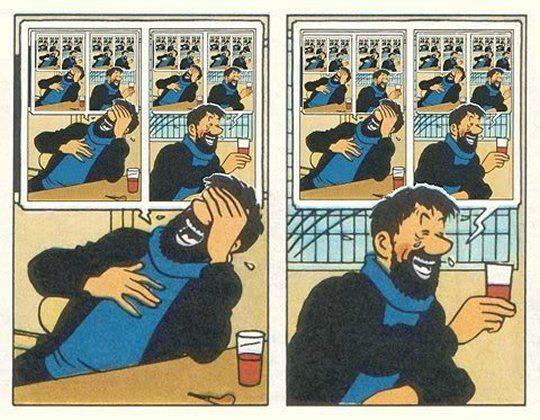 Template
Search Interest
External References
Facebook Comments