PROTIP: Press 'i' to view the image gallery, 'v' to view the video gallery, or 'r' to view a random entry.
This submission is currently being researched & evaluated!
You can help confirm this entry by contributing facts, media, and other evidence of notability and mutation.
About
#HipsterCongress is a Twitter hashtag associated with humorous one-liners characterizing the United States Congress as a hipster stereotype. The hashtag can be seen as a part of the American public's growing dissent over the United States government shutdown which began on October 1st, 2013 and remains ongoing as of October 8th.
Origin
The hashtag joke emerged at around noon (ET) on October 8th, 2013, the beginning of the second week into the government shutdown, when @JesseBerney used the hashtag in response to his friend @AnaMarieCox's tweet[1] linking to a Public Policy Polling press release titled "Americans like Witches, the IRS, and even Hemorrhoids better than Congress."

anamariecox</a> Hipster Congress just made every band you like illegal.</p>&mdash; Jesse Berney (jesseberney) October 8, 2013
Spread
From there, the joke quickly gained momentum in the following hours as other users on Twitter joined in with their own jokes, including @ShawnFleek[6] who contributed more than a dozen of #hipstercongress tweets and The Office comedian and writer BJ Novak.[7] By 2 p.m. (ET), Mashable[4] had published a compilation of the tweets in an article titled "21 Funniest #HipsterCongress Tweets You Probably Haven't Heard Of."
Notable Examples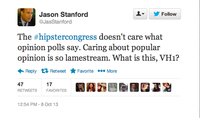 External References
Recent Videos
There are no videos currently available.
Facebook Comments