PROTIP: Press 'i' to view the image gallery, 'v' to view the video gallery, or 'r' to view a random entry.
This submission is currently being researched & evaluated!
You can help confirm this entry by contributing facts, media, and other evidence of notability and mutation.
About
Infomercial Fails refer to montage videos or animated GIFs of actors struggling to do basic tasks, to show how this everyday task would be difficult without the advertised products. These struggles are often over-exaggerated in a humorous, unbelievable manner.
Origin
Infomercials[1], sometimes referred to as Direct Response TV (DRTV), are long commercials for household items that also contain a phone number, mailing address or website through which people can purchase the advertised product. The word itself was coined in the 1980s by entertainment mogul Paul Ruffino who was known for purchasing program-length blocks of commercial time and, in 1982, the first infomercial aired, selling a line of hair growth products. The first online montage dedicated to pointing out the over-the-top struggles of informercial actors was created by Everything Is Terrible[9] and uploaded to Funny or Die on September 3rd, 2009.
Spread
A second compilation was uploaded YouTube on April 18th, 2010 by Derek Lieu. Titled "As Seen on TV – a tribute to doing it wrong" (shown below), the video featured clips of actors struggling to complete household chores set to the Beatles song "Help!." As of February 2013, this video has more than 2 million views.
The same month, food blog Serious Eats[10] featured both compilations on their blog. In 2011, infomercial compilations appeared on Pleated Jeans[11], Neatorama[12] and I Waste So Much Time.[13] In January 2012, a single topic blog titled "Infomercial Problems"[14] launched, mainly sharing videos of the strange behavior exhibited in these commercials. In August of that year, the Huffington Post[15] highlighted additional informercial fails. The same month, a photo album of 141 infomercial GIFs was created on Imgur.[2] Two days later, a thread appeared on 4chan's /wsg/[3] board (Work-Safe GIF), asking users to post additional infomercial GIFs.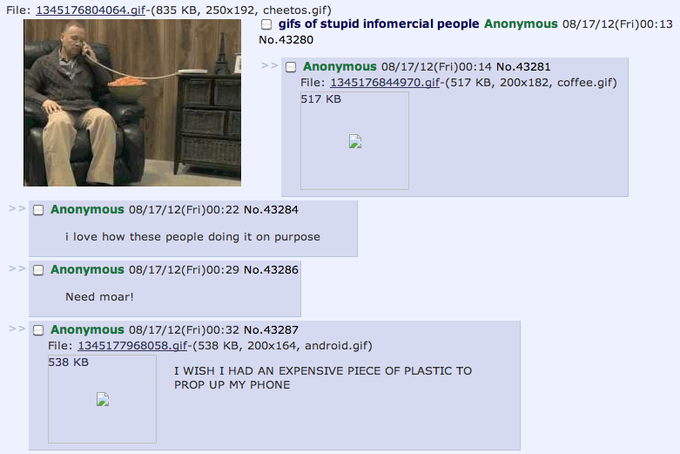 Series of these GIFs were featured on Uproxx[7] and Buzzfeed[16] on September 26th, 2012. On October 21st, 2012, a GIF featuring a family overreacting to a mother spilling soda (shown below) was submitted to the /r/funny[4] subreddit, which managed to gain over 4,700 upvotes and over 600 comments. A day later, the subreddit /r/wheredidthesodago[5] was launched, dedicated to animated GIFs of out-of-context or absurd moments from infomercials. Within three months, the subreddit has managed to gain more than 125,000 subscribers, becoming the fast growing subreddit within the site.[6] In December 2012, another collection of these GIFs was shared on /r/Funny[17], gaining more than 4400 upvotes and 1600 points overall. Additionally, as of February 2013, there are more than 1700 search results for "bad infomercial" on YouTube.[8]
Notable Examples
Search Interest
External References
Facebook Comments