PROTIP: Press 'i' to view the image gallery, 'v' to view the video gallery, or 'r' to view a random entry.
This submission is currently being researched & evaluated!
You can help confirm this entry by contributing facts, media, and other evidence of notability and mutation.
About
Invisible Bicycles, not to be confused with the LOLcats image macro series Invisible Bike, is a photoshop meme that involves erasing the bicycle out of a photograph of a cyclist to make the subject appear as if he or she is floating above ground.
Origin
On March 23rd, 2009, Justin Halpern and Justin Thomas of Holy Taco posted a photoshop compilation titled "Celebrities Riding Invisible Bicycles"[1], featuring images of various celebrities riding "invisible bicycles," including Albert Einstein, Miley Cyrus and Brad Pitt (shown below, from left to right). In the following days, the images were highlighted on BuzzFeed[2] and The Cycler.[3]
Precursor
The concept of "invisible bicycle" was first explored by Chinese photographer Zhao Huasen[5] in his 2005 photojournalism project "Floating," which features digitally manipulated images of Chinese commuters cycling without their bicycles (shown below).
Spread
In April 2011, Halpern shared the original compilation on his personal Tumblr blog[4], adding that he has toyed with the idea of starting a single topic blog dedicated to the images. In late May 2012, Huasen's "Floating" project made the rounds on a number of art, design and internet culture blogs, beginning with Faith is Torment[6] and followed by Complex[7], My Modern Met[8], PetaPixel[9], Trend Hunter[10], Flavorwire[11], Kottke.org[12] and Twisted Sifter.[13]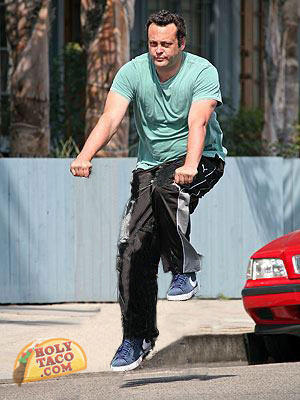 On Reddit
In September 2012, Halpern and Thomas' "Invisible Bicycle" series re-surfaced as an Imgur gallery[14]
on Reddit's /r/MildlyInteresting[15] and /r/PhotoshopBattles,[16] where the post racked up more than 9,000 upvotes and 370 comments in total, while spawning almost two dozens of derivative instances in which bicycles are replaced with eccentric objects like a dinosaur or a DJ booth (shown below).
On October 16th, 2013, an updated collection of "Invisible Bicycle" images were submitted to the /r/Funny[17] subreddit, where it attracted more than 23,000 upvotes, 1,800 points overall and 675 comments in less than 24 hours. Within an hour of the post, a commenter launched the subreddit /r/InvisibleBicycles[18], encouraging people to submit their own photoshops, which gained more than 2,200 subscribers in 17 hours. On October 17th, humor blog Tastefully Offensive[19] reposted the image gallery to Tumblr, where it accrued more than 13,000 notes within six hours.
Notable Examples
Search Interest
External References
Facebook Comments