PROTIP: Press 'i' to view the image gallery, 'v' to view the video gallery, or 'r' to view a random entry.
This submission is currently being researched & evaluated!
You can help confirm this entry by contributing facts, media, and other evidence of notability and mutation.
About
Jim Boeheim's Jacket Removal is a photoshop meme featuring a cut out image of Syracuse University basketball coach Jim Boeheim angrily removing his jacket in protesting a charging foul call made by a referee during a regular season match against Duke University in February 2014.
Origin
On February 22nd, 2014, Boeheim was ejected from a basketball game after angrily removing his jacket and aggressively addressing a referee following his team's loss (shown below).[3]

Immediately following the game, managing editor of the sports blog SB Nation Brian Floyd tweeted a photograph of the cast of the 1990s American action television series Baywatch with Boeheim edited into the frame.
HERE COMES BOEHEIM pic.twitter.com/B35CmDnjAG

— Brian Floyd (@BrianMFloyd) February 23, 2014
Spread
The same day on February 22nd, 2014, other Twitter users began posting photoshopped images featuring a cut out of Boeheim taking his jacket off superimposed into a variety of other base images.
Boeheim: The Firm pic.twitter.com/i0cCQpvMoJ

— Danny (@recordsANDradio) February 23, 2014
The same day, Redditor DannyTorrance submitted the Boeheim photo juxtaposted with a picture of the deceased pop star Michael Jackson to the /r/CollegeBasketball[7] subreddit, where it garnered upwards of 760 up votes and 15 comments in the first 24 hours (shown below).

According to the Twitter analytics site Topsy,[1] tweets containing the keyword "Boeheim" peaked that day with over 69,100 mentions (shown below). In the coming days, several sports news sites published articles about Boeheim's ejection and the related photoshop meme, including Larry Brown Sports,[4]ESPN,[5], Nunes Magician[2] and Barstool Sports.[6]

Notable Examples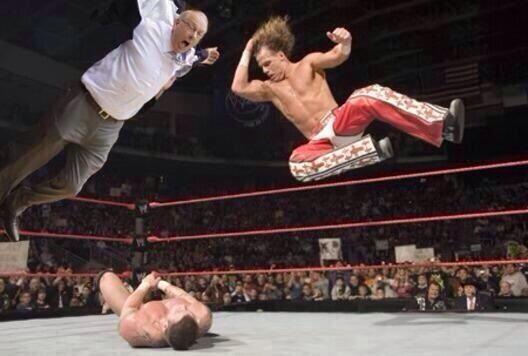 Search Interest
Not available.
External References
Recent Videos
There are no videos currently available.
Facebook Comments