PROTIP: Press 'i' to view the image gallery, 'v' to view the video gallery, or 'r' to view a random entry.
This submission is currently being researched & evaluated!
You can help confirm this entry by contributing facts, media, and other evidence of notability and mutation.
About
Beyoncé Knowles is an American singer-songwriter who rose to fame in the late 1990s as the lead singer of the R&B trio Destiny's Child. Following the group's disbandment in 2005, the singer began performing and recording as a solo artist, soon establishing herself as one of the best-selling music artists of all time, with more than 118 million solo records and 60 million records with Destiny's Child in sales, as of October 2013.
Online History
As early as June 2003, Beyoncé's first fan site, Beyoncé World[12] was founded by a fan named Rick as a place to share breaking news and high quality pictures of the artist. In 2012, the new administrator of the site moved its domain to TheBeyonceWorld.com,[13] which remains to be one of the top Beyoncé fan sites as of October 2013. In February 2006, Beyoncé launched her personal website, Beyonce.com,[9][10] where she began posting updates as well as MP3s and videos of her work. On October 1st, 2007, an official Beyoncé fan page was launched on Facebook[11], which has accrued more than 52 million likes as of October 2013. On November 12th, 2011, the /r/Beyonce subreddit[17] was created.
Pregnancy Announcement Twitter Record
At the end of a performance of her song "Love On Top" during the MTV VMAs in August 2011, Beyoncé dropped her mic, unbuttoned her blazer and showed off her baby bump, revealing she was five months pregnant (shown below). At the time of the reveal, 8,868 tweets per second were sent about the news, breaking the record for most tweets per second during a single event.[24] She held the record until December 9th, 2011, when a screening of the Japanese film Castle in the Sky yielded 25,088 tweets per second.
Beyhive
Beyhive is the term used to describe fans of Beyoncé, coined sometime prior to August 2006 when the it began appearing on the gossip message board Lipstick Alley.[15] In early 2011, Beyoncé embraced the name and added a section on her website titled The Beyhive[16] to share fan photos. In November 2011, Beyhive was added to Urban Dictionary[14] and it has since become a popular hashtag used by fans to connect with each other on Tumblr[18], Twitter[19] and Instagram.[20]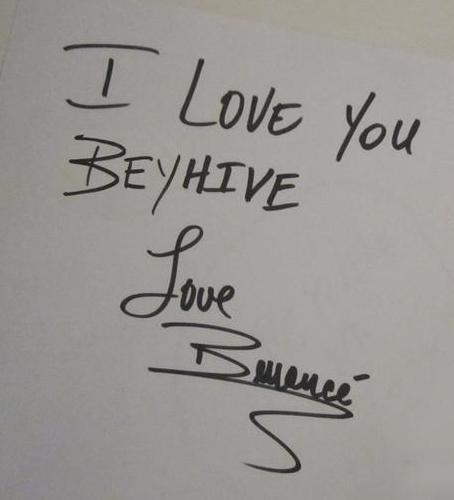 Related Memes
Haters To The Left
Haters To The Left is a catchphrase used to dismiss negative people from a conversation. Though the phrase itself was not uttered until March 1st, 2007 in an episode of the American sitcom 30 Rock, it was inspired by the lyrics of Beyoncé's 2006 single "Irreplaceable" (shown below). The song's lyrics begin with "to the left, to the left, everything you own in the box to the left." The phrase has since become a popular tag on Tumblr[1], Instagram[2] and Twitter.[3]
The Single Ladies Dance
The Single Ladies Dance is a viral dance sequence featured in the video for Beyoncé's 2008 single "Single Ladies (Put A Ring On It)" (shown below, left). It was directed by Jake Nava, and choreographed by Frank Gatson and JaQuel Knight and premiered on MTV's Total Request Live on October 13th, 2008. The first parody of the video appeared on the November 15th, 2008 episode of Saturday Night Live featuring Justin Timberlake and two of the show's male cast members performing the dance (shown below, right). This sketch sparked dozens of parodies and as of October 2013, there are more than 183,000 search results for "Single Ladies parody"[4] on YouTube. A year after the video was originally released, it was uploaded to YouTube where it gained more than 75 million views within a month.
Kanye West at
VMA

2009

Kanye Interrupts, also known as "Imma let you finish," refers to an on-air mishap which occurred during Taylor Swift's acceptance speech for Best Female Video at the 2009 MTV Video Music Awards, when Kanye West suddenly stormed the stage and took the microphone from the singer to declare that Beyonce had "one of the best music videos of all time." Later that evening, when Beyonce went on the stage to receive the Video of the Year award for "Single Ladies (Put a Ring on It)," she decided forgo her acceptance speech and invited Taylor onstage to finish hers instead.
Unflattering Beyonce
Unflattering Beyonce is a photoshop meme based on humorously times photographs taken of Beyoncé during her performance at Super Bowl XLVII on February 3rd, 2013. After BuzzFeed posted a compilation of the photos from Getty Images on February 4th, they received a request from Beyoncé's publicist to take down seven of the photos for being "unflattering." The following day, BuzzFeed shared a redacted version of the letter in a post illustrating why the photos should not be removed. The takedown request resulted in much unwanted attention from news media outlets, resulting in threads containing photoshopped versions of these photos on a number of online communities including Reddit and the BodyBuilding.com forums.
Beyoncé's Illuminati Sign
Beyoncé's Illuminati Sign refers to a triangle-shaped hand gesture made by Beyoncé during her Super Bowl XLVII performance that some viewers construed as a reference to The Illuminati, a purported secret society consisting of world governments, corporations and celebrities. Throughout the performance, thousands of tweets were made suggesting she was part of the mysterious group, which greatly increased in frequency (shown below) after she flashed the sign, which had been previously associated with her and her husband Jay-Z to represent his record label Roc-A-Fella Records.
Beyoncé In Brunswick
Beyoncé in Brunswick refers to a hashtag and single topic blog created following a photoshoot with Beyoncé in Brunswick, Melbourne, Australia on October 24th, 2013.[6] After a number of local fans caught Beyoncé posing outside an authentic old house in the area, photos of the shoot began to quickly spread around social media. After the singer left the area, the gathered fans went up to the porch and began mimicking her poses for their own photos, which were shared on Twitter[7] and Instagram[8] with the hashtag #BeyonceInBrunswick. Fans also began to use the hashtag to make jokes about the local things Beyoncé should partake in while she was in the area, many of which were turned into image macros (shown below) for the blog Beyoncé In Brunswick[5], which was created that day by Richard Higgins and Matt Kelly of the comedy troupe The List Operators.
Personal Life
Beyoncé Knowles-Carter was born on September 4th, 1981. She recorded her first album with Destiny's Child in 1996, with whom she released six full-length albums. She began acting in made-for-television films in 2001, followed by her first major motion picture gig in July 2002. In 2003, she began her solo career with a guest spot on the song "'03 Bonnie and Clyde" (shown below, left) with her future husband Jay-Z, followed by her debut single "Crazy in Love" (shown below, right), which spent eight weeks on the top of the Billboard Hot 100 charts. She married Jay-Z on April 4th, 2008 and their daughter, Blue Ivy, was born on January 7th, 2012. Outside of her career, Beyoncé is also very active in politics and is a staunch supporter of President Barack Obama. As of October 2013, she maintains active social media accounts on Tumblr[21], Instagram[22] and Twitter[23] where she has more than 12.8 million followers.





h2. Search Interest






External References
Facebook Comments