PROTIP: Press 'i' to view the image gallery, 'v' to view the video gallery, or 'r' to view a random entry.
This submission is currently being researched & evaluated!
You can help confirm this entry by contributing facts, media, and other evidence of notability and mutation.
About
Lacey Micallef is a digital artist known for her unique style of 8-bit, rainbow-colored animated GIFs featured on her Tumblr blog formerly known as "Lulinternet."
Online History
On July 5th, 2010, Micallef launched the Tumblr blog Lulinternet.[1] In February 2011, Micallef began uploading her first GIFs featuring animated pixel art sprites (shown below).[3][4][5]
On May 7th, 2011, Micallef posted a rainbow-colored animated GIF with the caption "Eternal Pizza Party,"[6] gaining more than 12,800 notes in the next four years (shown below, left). On June 17th, she featured a pixel art animation of a hot dog and Slurpee drink (shown below, right).[7] Animations of various junk food items subsequently became a recurring theme in her work. On July 12th, a page for Micallef was posted on the Tumblr staff site.[4]
Television-Inspired Art
In early November 2011, Micallef posted pixel art animations characters from the animated television series Adventure Time (shown below).
In March 2012, Micallef launched a series of pixel art animations inspired by the television show Breaking Bad, featuring the antagonist Gus Fring with hot dogs flying out of his pants (shown below, left) and protagonist Walter White riding a recreational vehicle (shown below, right).
Cartoon Hangover
On April 1st, 2012, the YouTube channel CartoonHangover uploaded a pixel art animation by Micallef titled "Veggies vs Fat Boy," in which several anthropomorphic plants wielding knives chase a child holding a hot dog down a sidewalk (shown below). Over the next year, the channel featured 14 additional animations by Micallef.
News Media Coverage
On June 12th, 2012, The Daily Dot[3] published an interview with Micallef. On May 6th, 2013, Paper Magazine published a article about Micallef's work.
Notable GIFs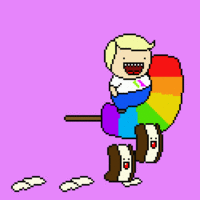 Search Interest
External References
Recent Videos
There are no videos currently available.
Facebook Comments