PROTIP: Press 'i' to view the image gallery, 'v' to view the video gallery, or 'r' to view a random entry.
This submission is currently being researched & evaluated!
You can help confirm this entry by contributing facts, media, and other evidence of notability and mutation.
About
Shitty Watercolour is the online handle used by Hector Janse Van Rensberg, a United Kingdom-based painter who posts photographs of original watercolor paintings on the social news site Reddit. His work is often compared to illustrations by artist Quentin Blake, whom he admits to drawing inspiration from.
History
The Shitty_Watercolour Reddit[1] account was created on February 15th, 2012, with his first submission featuring a watercolor painting of the video game character Sonic the Hedgehog (shown below).

Three days later, Rensberg participated in a painting battle with the novelty account ShittierWatercolor, receiving thousands of karma points from up votes in the thread.[4] On February 21st, an interview with Rensberg was published on the Internet news site The Daily Dot,[3] in which he revealed he had been experimenting with watercolors since December of 2011. On March 24th, the Shitty Watercolour[8] Tumblr blog was launched, highlighting notable works by the artist.
Videos
On April 18th, 2012, Shitty Watercolour launched a YouTube channel showcasing painting videos. On August 5th, 2013, an instructional video was uploaded to the channel demonstrating how he improved his painting ability (shown below). In the first 24 hours, the video accumulated upwards of 92,000 views and 240 comments.
IAmA Ban
In May of 2012, Shitty Watercolour was banned by the moderator karmanaut from the "ask me anything" subreddit /r/IAmA subreddit /r/IAmA for posting links to his personal website. On June 1st, The Daily Dot[6] published an article about the ban, which included a direct quote from Rensberg claiming he had not profited from his Reddit account.
Marriage Proposal
On July 9th, 2012, Redditor bigmur submitted a post to the /r/pics[7] subreddit thanking Shitty Watercolour for helping him propose to his fiance, which included a photo of the couple holding the painting (shown below). Prior to being archived, the post gained more than 5,100 up votes and 770 comments. On the following day, The Daily Dot[9] published an article about the post, which featured a slideshow of Shitty Watercolour's paintings for the proposal (shown below, right).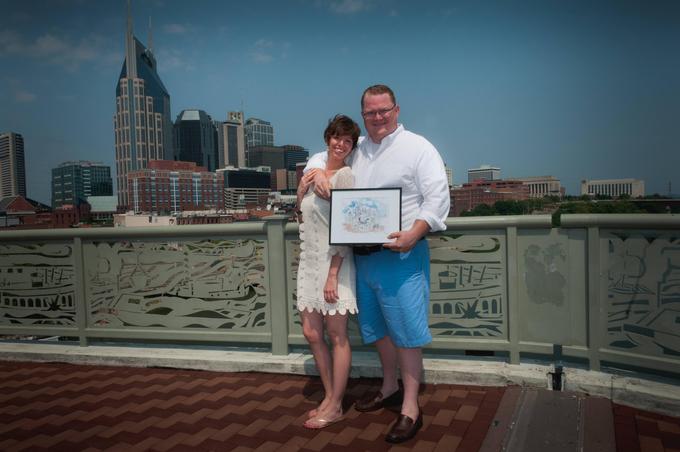 12-Hour Charity Paint
On October 4th, 2012, Rensberg posted an announcement[5] that he would be doing customs paintings for 12 hours to raise money for the non-profit organization charity:water,[10] aiming to provide potable drinking water for people in developing countries.
Facebook Profiles
On July 27th, 2014, Shitty Watercolour posted a thread titled "I messaged 50 random people on Facebook with a painting of their profile picture, replacing them with sloths. Here are the results.." to the subreddit r/funny,[11][12] which featured the 50 watercolor portraits of their Facebook profile photographs, some paired with their original photos and others on their own. In less than 24 hours, the Reddit post gained over 2,000 points. On July 28th, the watercolour series was covered by several websites including The Daily Dot[13] and Bored Panda.[14]



Search Interest
External References
Recent Videos
There are no videos currently available.
Facebook Comments