PROTIP: Press 'i' to view the image gallery, 'v' to view the video gallery, or 'r' to view a random entry.

About
Zyzz (pronounced "Ziz") was the online handle of Aziz Shavershian, an Australian bodybuilder who frequented 4chan's /fit/ (health & fitness) board and Bodybuilding Forums /misc (miscellaneous) board. He promoted being "aesthetic," gained through lifting and having a low bodyfat percentage. Although Zyzz was often criticized for being a shameless narcissist, his untimely death at age of 22 ultimately brought him iconic stature on the web, especially within bodybuilding communities.
Online History
Beginning in February 2010[1], Zyzz frequented 4chan's /fit/[19] (fitness) board as well as the miscellaneous board on the Bodybuilding Forums, where he posted links to his YouTube videos[3] as well as pictures of himself with the taunts "u mirin'?" or "u jelly?", suggesting that users were admiring or jealous of his physique.

On April 4th, 2010, "Zyzz" was defined on Urban Dictionary[4] as "the epitome of aesthetics." He was often mentioned on the fitness website SimplyShredded[5] and maintained an active Formspring[7] page where he answered questions from his fans. His homepage, ZyzzCentral[8] was created on April 28th, 2011. As of April 26th, 2012, the Zyzz Facebook[6] page has received over 233,000 likes.
TV Reality Show
On September 23rd, 2011, the first episode of the Australian reality show National Road Trip[17] was uploaded to YouTube, which featured Zyzz as a cast member travelling to notable destinations across Australia. Zyzz appeared in several videos on the TV show's YouTube channel[22] before being replaced by his brother Said shortly after his death.
Reputation
By January 2011, he had become somewhat of a celebrity on the BodyBuilding forums[9], where his catchphrases "u mirin'?" and "u jelly?" quickly caught on with other forum members.

On April 29th, 2011, Zyzz shared several of his lifestyle philosophies and fitness tips, including his daily meal and workout plans, in an interview with SimplyShredded.[5] In the interview, Zyzz revealed that he loved to play up his perceived stereotype and that he established his fan base because he tried not to take himself "too seriously."
A month after his death in August of 2011, a compilation of Zyzz's lifestyle tips were compiled on Bodybuilding Forums Misc board[10], covering everything from what types of supplements he uses to how he styles his hair. Some highlights include:
- Worked out 5x a week
- favorite alcoholic drink – vodka – "because it's the shyt"
- fav. Jersey shore character – the Situation
- Aesthetic – the alpha way to say beautiful.
- fears? growing old and living out a boring life of monotony
- how become alpha- disregard females. acquire aesthetics
- Hair? – 1. shower 2. let it dry 3. straighten it 4. matte clay 5. hairspray 6. FUARRRK thats sexy
Notable Examples
Zyzz has been the subject of a number of image macros, many of which reference his catchphrases "u mirin brah?" and "u jelly?"






Personal Life
According to his website[2], Zyzz graduated with a Bachelors Degree in Business from the University of Western Sydney Parramatta after getting kicked out of Macquarie University in Sydney. However, he did not hold down a business job and instead worked as a personal trainer and male stripper. He chose to pursue the bodybuilding lifestyle after seeing his brother Said Sergeyevich Shavershian, known online as "Chestbrah", become "shredded" through similar techniques. Both Zyzz and his brother ended up taking steroids over the course of their training, leading to Chestbrah's arrest for steroid possession on July 14th, 2011.[11]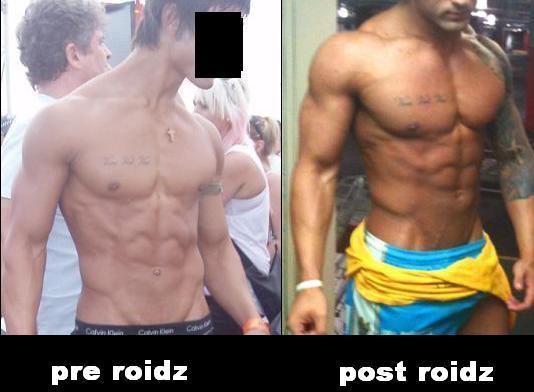 Death
Aziz died suddenly on August 5th, 2011 at age 22. He was found in a sauna in Bangkok, Thailand. His autopsy revealed that he had suffered from an undiagnosed congenital heart defect. Reflecting his online popularity, news of his death appeared on several Australian news sites including The Telegraph Australia[12], 9News[13], and the Sydney Morning Herald[14], as well as BodyBuilding.com[15] and 4chan.[16] On August 22nd, The Daily Telegraph[20] writer Katherine Danks revealed that she was harassed on Twitter for covering Zyzz's death. Following Zyzz's death, his brother Said Shavershian (a.k.a. "Chestbrah") served as his replacement in the National Road Trip reality show.
Hoax Rumors
On August 19th, 2011, Bodybuilding Forums[23] user sydneybrah13 submitted a post titled "Sh/t just got real (Zyzz related) he's alive and in Miami – GTFIH is this real life?" which included a lengthy report on several Facebook posts involving Miami club promoter Monica Lace, who claimed to have employed Zyzz after his death. The thread included screenshots of various Facebook posts as evidence. On August 21st, Bodybuilding Forums[21] member Essay replied to another Zyzz thread claiming the Miami story had been faked.
Chestbrah Tribute Video
On March 22nd, 2012, Chestbrah uploaded a 19-minute video montage to YouTube dedicated to his brother titled "Zyzz – The Legacy", which included various inspirational clips of Zyzz accompanied a house music playlist. The video received over 950,000 views and over 10,000 comments within one month.
Search Interest
Search query volume for "Zyzz" began to rise in March 2010, about a month after he began posting on 4chan and the Body Building forums. Search query volume peaked in August 2011, the month he died.
External References
Facebook Comments