PROTIP: Press 'i' to view the image gallery, 'v' to view the video gallery, or 'r' to view a random entry.
This entry has been rejected due to incompleteness or lack of notability.
To dispute this DEADPOOL flagging, please provide suggestions for how this entry can be improved, or request editorship to help maintain this entry.
Spider-man 2 (2004) was a sequel of the 2002 Spider-man based off of the Spiderman Marvel comics.
In a scene near the end of the film, Peter Parker (Played by Tobey Maguire) enters Doc Ock's laboratory. When he finds Mary Jane there, Peter Parker decides to reveal himself as Spiderman and save her, but shortly after, the ceiling starts to collapse above Mary Jane. Parker reacts in fear, and the rest is self explanatory.
The blatant and near-insane scream Tobey had made overdid the gravity of the moment, considering he saved her instantly afterwards. This sparked attention to those who recognized this humor, arguing it was funnier than any of the comic relief Spidey-Puns used throughout as well as it being their "favorite scene."
On the August of 2010, Youtube Poop legend Deepercut(t) had posted a YTP Parody of the entire Spider-man 2 movie titled "Revenge of the Mad Madman," which in several instances used the Peter Parker Scream as reactions to events or orders.
This boosted attention towards the Peter Parker scream.
The Peter Parker Scream can be used as a reaction to disappointing or unsettling events, as well as replacing other screams or long "NOOOOO's"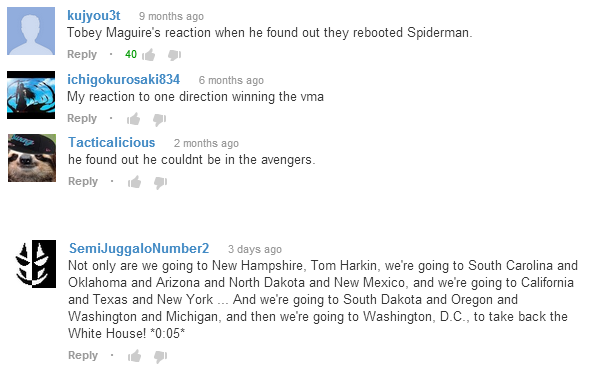 It even has its own macro to replace the scream scenes of other series and memes.

The meme hadn't received that much attention since it became apparent, but it is still remembered for its reference humor.
Recent Videos
There are no videos currently available.
Recent Images
There are no images currently available.
Facebook Comments