PROTIP: Press 'i' to view the image gallery, 'v' to view the video gallery, or 'r' to view a random entry.
Warning: This page contains material that may be considered not safe for work.
This submission is currently being researched & evaluated!
You can help confirm this entry by contributing facts, media, and other evidence of notability and mutation.
About
The Smexual X or Smexual_TF2 is a series of videos from the video game Team Fortress 2 where people modifies the voice commands of a certain class or most several classes and mixed it to form several sentences, sounds and words who make no sense, using them for "sexual things", and usually make weird noises including loud sound from the characters, making Rape Sounds , while a picture of the protagonist's face of the video is zooming (Usually with Derp eyes and HWM face ).
Origin
A YouTube user named GAYPENlS, now OLDSACKS [1], uploaded a video (around 2010) named sexual heavy.wmv featuring the character Heavy mixed speaking strange, dirty and weird things and noises. The picture in the video included the Heavy with Dr's Dapper Topper hat and holding an odd HWM face. Since he closed his old account, the video doesn`t exits. But on September 3r, 2011, was re-uploaded ,the video has over 36,000 views as of date. Later, the Youtube user Scoutellite made another Smexual video named "Sexual GRN Team" who was another popular video response, but due the confusion about the origin of the fad, Scoutellite closed his YouTube account. In Oct 9th, 2012, the re-uploaded again, only with 5,600 views.
Spread
The Youtube user EthioMod [2] made a Garry's Mod version of GAYPENIS video as a response, but apparently the original video was removed by YouTube, but later on June 14th, 2011 was re-uploaded again, named Sexual Heavy in Paradise.
Later, over the time, many Youtube users began to make their own videos, modifying each of the voice commands of each class in Team Fortress 2 or using other characters from different games, like Left 4 Dead and Portal. Today's versions of the Smexual_tf2 videos are quite different than they once were. Usually, there is a cast of many characters. After these videos are uploaded, there tends to be Garry's Mod adaptions that go along with it like EthioMod's video.
Smexual Characters
Sexual Name Class
Is a random type of name for the protagonist in the Smexual X video. As more and more people made their own version, new characters names were coming out, people started renaming them, starting with "Sexual", "Unstable", "Mentally", "Retarted", etc. Giving if each character their own personality.
MeeM
Meem (pronounced with a short E sound) is a popular sound clip made by YouTube user OluapPlayer [3] created in May 11th, 2011, who is frequently used in the videos. Comes from the Voice Command when the player call for a Medic in the game to heal them. In the videos, is reversed in the middle of the speech forming the word "MeeM" and includes a wooden medic target that is used in the Team Fortress 2 training.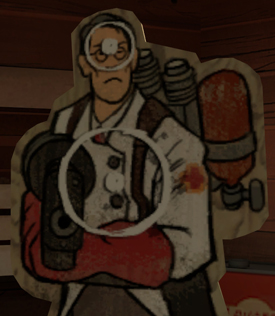 Stu PidFace
Stu PidFace is a deformed RED Heavy created by the YouTube User LEtheCreator [4] in December 2nd, 2011, being much slimmer than the average one, and always possesses bizarre expressions on his face. He wears a pair of Summer Shades, and he is often seen smoking a cigarette.
Today
There are a lot of videos, about 140 Smexual videos exist on Youtube, there can be simples or more detailed. The most longest Smexual_tf2 video was made by the Youtube user DoctorStroodle [5], with a duration of more than six minutes and has over 37,000 views.
In May, 28th, 2013, DoctorStroodle created a Garry's Mod version from his own video, with a duration of only one minute, decided to create it in separate parts.
External Links
[1]YouTube – OLDSACK'S Channel
[2]YouTube – EthioMod's Channel
[3]YouTube – OluapPlayer's Channel
[4]YouTube – LEtheCreator's Channel
[5]YouTube – DoctorStroodle's Channel
Recent Images
There are no images currently available.
Facebook Comments