PROTIP: Press 'i' to view the image gallery, 'v' to view the video gallery, or 'r' to view a random entry.
This submission is currently being researched & evaluated!
You can help confirm this entry by contributing facts, media, and other evidence of notability and mutation.
About
#SochiProblems is a hashtag used to mock the unpleasant conditions experienced by visitors at the 2014 Sochi Winter Olympic Games.
Origin
On February 3rd, 2014, Chicago Tribune reporter Stacy St. Clair tweeted a photograph of brown water taken from the sink faucet at her hotel is Sochi, Russia. In the next four days, the tweet gathered upwards of 3,600 retweets and 1,200 favorites.
Water restored, sorta. On the bright side, I now know what very dangerous face water looks like. #Sochi #unfiltered pic.twitter.com/sQWM0vYtyz

— Stacy St. Clair (@StacyStClair) February 4, 2014
On February 4th, the Twitter account @SochiProblems[1] was launched, which began tweeting photographs and complaints of various mishaps observed in Sochi, Russia during the 2014 Olympic games. Within the first 72 hours, the Twitter feed gained over 255,000 followers.
You get all inclusive! #SochiProblems pic.twitter.com/HVhSJ7e2jz

— Sochi Problems (@SochiProblems) February 4, 2014
Spread
The same day on February 4th, 2014, senior international correspondent for The Globe and Mail Mark MacKinnon tweeted about his check in experience at his hotel in Sochi. Within 72 hours, the tweet received more than 1,000 retweets and 660 favorites.
For those of you asking, when there's no lobby in your hotel, you go to the owner's bedroom to check in. #Sochi2014

— Mark MacKinnon (@markmackinnon) February 4, 2014
On February 5th, another Twitter feed @SochiFails was created with the same premise, highlighting a photograph of a twin-seat toilet first sighted and tweeted by BBC reporter Steve Rosenberg in a bathroom at Sochi's cross-country skiing and biathlon center in January 20th. In the next 48 hours, @SochiFails accumulated upwards of 16,900 followers.
Seems like they have team bonding figured out #sochi #sochifails pic.twitter.com/wTeEJAIuhE

— Sochi Fails (@SochiFails) February 5, 2014
On February 6th, news anchor David Nelson tweeted that over 26,000 tweets using the hashtag #SochiProblems had been posted in the past 24 hours.
In 24 hours alone, 26,000 tweets have been sent using the hashtag #SochiProblems http://t.co/KIlAnDWCaw

— David Nelson (@DavidNelsonNews) February 6, 2014
According to the Twitter analytics site Topsy,[11] there were over 80,000 tweets containing the hashtag #sochiproblems that day (shown below).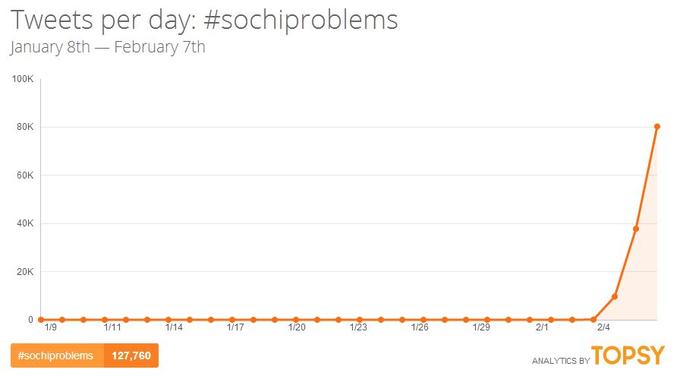 News Media Coverage
In the coming days, several news sites published articles about the #SochiProblems hashtag, including UpRoxx,[2] BuzzFeed,[3] Bloomberg,[4] The Huffington Post,[5] Mashable,[6]CNET,[7] The Washington Post,[8]NBC News[9] and The Guardian.[10]
Fake Claims
On February 6th, 2014, Gizmodo published an article highlighting several fake FAIL photographs falsely attributed to Sochi, including bizarre bathroom arrangements, a poorly-translated menu and brown water in a sink (shown below). The article exposed many of the images for being taken months to years prior to the Sochi Olympics and from completely different regions around the world.
Search Interest
External References
Facebook Comments