PROTIP: Press 'i' to view the image gallery, 'v' to view the video gallery, or 'r' to view a random entry.
Warning: This page contains material that may be considered not safe for work.
This entry has been rejected due to incompleteness or lack of notability.
To dispute this DEADPOOL flagging, please provide suggestions for how this entry can be improved, or request editorship to help maintain this entry.
NOTE: I know its not a meme, maybe a parent meme or something, but its pretty popular on the web. also. tell me if im missing something in the comments!
introduction to music
in the comedy world, there is always something that humor us, jokes, tv shows, etc. but songs wasn't always one of them, people listen to music to feel better, before big amps and heavy metal controversy, there was songs to cheer up for and for people who wanted something different when they stopped working at the factory, that was mostly blues though. but enough about that, lets start.
origin
in the music buisness, nobody is allowed to copy someone's songs, the songs was always copyrighted by the record studio and/or the band. the first person who copied a famous song, but changed the lyrics was Alfred Matthew Yankovic, or as we know him as: weird al.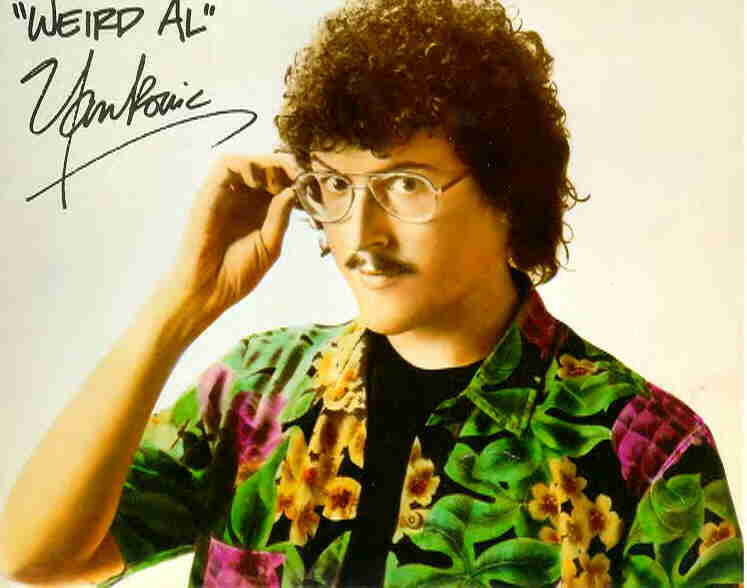 he would always ask the band before he parody it, just like when they ask if they can use the song on a movie, or on a youtube video, his lyrics was very lulzy and full of humour. you can check out is songs and music videos on youtube. (the videos embed are disabled.)
song parody's on the interweb and misattributed
the start of weird al fans or people who want to parody a song was NOT on youtube! before youtube, there was file sharing websites like limewire where people started to upload their own parodys, but there was a problem. or problems. few fans was not making songs that was funny or lulzy. many songs was mostly misattributed files, include songs that are racist, sexually explicit, or otherwise offensive. A young listener who had heard several of these offensive tracks by way of a file sharing service confronted Yankovic online, threatening a boycott due to his supposedly explicit lyrics. Quite a few of the songs, such as "Star Wars Cantina" by Mark Jonathan Davis (later of Richard Cheese and Lounge Against the Machine), "Star Wars Gangsta Rap", "Yoda Smokes Weed", "Chewbacca" and several more have a Star Wars motif. Some songs misattributed to him are not songs, but spoken skits, such as "Sesame Street on crack", which is also widely misattributed to Adam Sandler.
youtube songs
on youtube, there is (of course) song parody's of other artist, there is a lot of them around there, just a simple search on the name "music parody" over 200,000 result's (201,000 to be more correct) pops up on youtube.
We Are Gonna Pwn You Up (Never Gonna Give You Up WoW Parody) by JohnnyStreets

"Just Google" – a parody of "Beat It" by Michael Jackson by lexfri

Jaws Theme Song by Goldentusk

HOMER IS PERFECT! (HANNAH MONTANA PARODY!) by TomsterMusic

How To Kill A Brand by sarcasticgamer

I Kissed A Girl (Parody) – Katy Perry – Elderly Remix by venetianprincess "NSFW"

"THE DAY THE DATA DIED"-Loose Bruce Kerr parody by bkerr3
embed disabled, but the song is very good. check it out here
I'm a Korean song (I've Gotta Feeling Parody) by ExiledLemon "NSFW"

Crush On Obama by BarelyPolitical

there are a lot of them on youtube, check them out yourself.
Facebook Comments