PROTIP: Press 'i' to view the image gallery, 'v' to view the video gallery, or 'r' to view a random entry.
This submission is currently being researched & evaluated!
You can help confirm this entry by contributing facts, media, and other evidence of notability and mutation.
About
Girls is an American comedy television show that follows the lives of four women in their early twenties living in New York City. Upon its premiere on HBO in April 2012, the show quickly became a hot topic on entertainment and women's issue websites, with bloggers often criticizing the lack of racial diversity on the show.
Premise
The series follows Hannah, a young women a few years out of college, as she tries to establish a writing career in the city while navigating her relationship with her booty call/ boyfriend. Her best friend Marnie, is an overachiever who isn't sure how to handle being laid off from her nice job or her break-up with her college boyfriend. Their college friend Jessa is a wild child who avoids responsibility and bounces from job to job and relationship to relationship. Her cousin Shoshana is still in college and trying to figure out who she wants to be when she graduates.
History
Girls was created by Lena Dunham and produced by Judd Apatow. The show premiered on HBO on April 15th, 2012. Its third and most recent season premiered on January 12th, 2014. It's fourth season, which will air sometime in 2015, was announced on January 9th.[1]
Reception
Girls earned a rating of 7.5 on IMDB[2] and a score of 87% on Metacritic. It has won two Golden Globes in 2013 for Best Performance by an Actress in a Television Series (Lena Dunham) and Best Television Series (Musical or Comedy). It has also been nominated for 10 Primetime Emmys, winning one for Outstanding Casting for a Comedy Series (Jennifer Euston ) in 2012. The show has been accused of nepotism since many of the stars have famous parents (including Brian Williams and David Mamet) and has been criticized for portraying almost exclusively white characters in a very racially diverse city.
Online Presence
As of February 2014, Girl's official Twitter account[4] has over 290,000 followers and its Facebook Page[5] has over 1.3 million likes.
Fandom
Popular Tumblr blogs dedicated to the show include fyeahhbogirls,[6] girlscaps,[7] and girlshbo.[8] The show is also popular on Instragram, where over 15,000 pictures have been tagged #girlshbo.[9]



Related Memes
Shoshi Games
The Shoshi Games is an exploitable photoshop meme in which screen shots of Girl's character Shoshanna (played by actress Zosia Mamet) are put on images of athletes competing in the 2014 Sochi Winter Olympics. On February 11th, 2014, the Tumblr Shoshigames[1] was created, which creates and posts the images along with comments written in Shoshanna's voice such as "Curling? I've been doing that since my bat mitzvah." and "Are we going to a Drybar? #helmethair."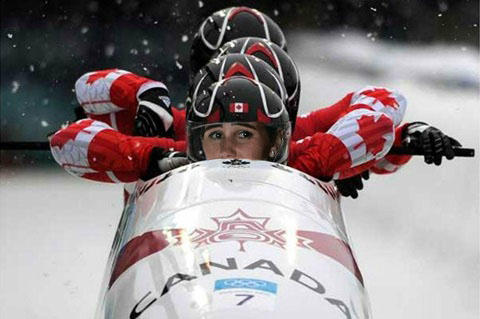 Parodies
On July 27th, 2012, YouTuber PeterFrankMike uploaded a parody trailer for Boys, which swapped the gender and location (LA) of Girls and poked fun at the trivial conflicts and the stars' famous parents (below, top left). As of February 2014, the video has over 350,000 views. On April 26th, 2012, comedian Stephanie Bencin uploaded a video to her YouTube channel titled "Shit Girls Say About the Show 'Girls'" which combined Girls parody with the Shit People Say meme (bottom right). As of February 2014, the video has over 140,000 views. An episode of Saturday Night Live that aired on September 28th, 2013, featured a parody of Girls that introduced an older, tougher girl from Albania (played by Tina Fey) (top right). The sketch was uploaded to NBC's YouTube channel on September 29th. As of February 2014, the video has over 1 million views. On January 20th, 2014, comedy group Above Average uploaded a video to their YouTube channel titled "HBO's GIRLS Tour ft. Sasheer Zamata" which featured a fictional tour of the Brooklyn neighborhoods where Girls is shot (bottom left). As of February 2014, the video has over 87,000 views.
Notable Examples






Search Interest
External References
Facebook Comments