PROTIP: Press 'i' to view the image gallery, 'v' to view the video gallery, or 'r' to view a random entry.
This submission is currently being researched & evaluated!
You can help confirm this entry by contributing facts, media, and other evidence of notability and mutation.
[This is an open entry. If you would like to contribute to researching this entry, please request editorship. If all editorships are currently full, head over to the forum thread to further discuss the entry.]
---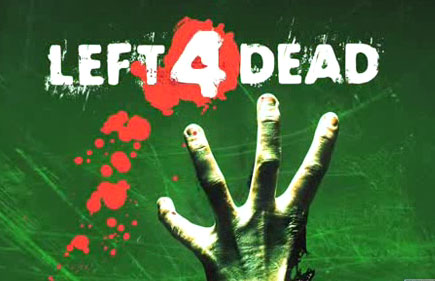 About
Left 4 Dead is a co-op first person shooter game developed and published by Valve. It takes place in an apocalyptic world brought about by the "green flu" which causes those afflicted to suffer from grotesque, zombie-like mutations and aggression. The first game takes place in Pennsylvania, while the second game takes place in Atlanta and Louisville.
History
The game was released on November 17, 2008 for Microsoft Windows and Xbox 360, and September 27, 2010 for Mac OS X.
Gameplay
The game has four game modes:
Campaign: Up to four players cooperatively play through different stages attempting to make it to rescue with safe points along the way.
Versus: Two teams, one consisting of the survivors trying to make it to the end of the level, and another consisting of the infected trying to stop them, fight against each other, switching off each chapter
Survival: Up to four players attempt to survive against an endless hoard of infected for as long as they can.
Single-player: Identical to the campaign only instead of other players, the other three survivors are Bots.
Characters
There are four characters in the first game referred to as the Survivors.
Louis: A system's analyst at an information technology company.
Zoey: A horror movie buff and college freshman.
Sequel
On November 17, 2009, a year after the first game was released, Valve launched Left 4 Dead 2 for Microsoft Windows and Xbox 360, and September 10, 2010 for Mac OS X.
Characters
In L4D2, a brand new cast of Survivors were featured.
Coach: A high school football coach.
Nick: A cynical gambler and con artist.
Rochelle: A television journalist.
Ellis: A friendly, talkative redneck mechanic who tells stories about his times with his friend Keith.
Related Memes
Karma Charger
Karma Charger is a term used to refer to a Charger that attacks lone players while teammates refuse to help, often as revenge for griefing by the victim, hence the name karma charger.
What Happens When X gets Y/Grabbin' Peelz
What Happens When X gets Y or Grabbin' Peelz are types of Gmod videos featuring characters from various games obtaining a certain item followed by an overreaction by the character while versions of a sound edit of Louis by Youtube user ASecondOpinion1501 plays in the backround.
In the first L4D, the character Francis says that he hates a variety of things, such as stairs, elevators, doctors, lawyers, libraries, etc.
X beats up Y for no reason
A Youtube fad that began when RubberFruit uploaded the video "Louis beats up Rochelle for no reason".
X's Y is not a Horse
X's Y is not a Horse is a Youtube fad that began when Rubberfruit uploaded "Francis's bike is not a horse" on March 7, 2010.
Cheeseburger Apocalypse
Cheeseburger Apocalypse is a phrase said by Coach in the second L4D, in the Fairgrounds chapter at the Dark Carnival.
Interest
Facebook Comments