PROTIP: Press 'i' to view the image gallery, 'v' to view the video gallery, or 'r' to view a random entry.
This submission is currently being researched & evaluated!
You can help confirm this entry by contributing facts, media, and other evidence of notability and mutation.
About
Modern Family is an American sitcom about a multi-generational extended family broken up into three nuclear families: a father and his new wife and young children, his grown son's family and his grown daughter's family. Premiering in 2009, it quickly gained critical acclaim, earning multiple Emmys, and being praised for featuring a diverse cast.
Premise
Modern Family follows the lives of the Pritchett-Dunphy families. As the show opens, the patriarch, Jay Pritchett (Ed O'Neil) has recently married a young Columbian woman, Gloria (Sofía Vergara) who has a elementary school aged son Manny (Rico Rodriguez). Jay's son Mitchell (Jesse Tyler Ferguson) and his partner Cameron (Eric Stonestreet) have just adopted a daughter, Lily (originally Ella Hiller and Jaden Hiller, Aubrey Anderson-Emmons after 2011), from Vietnam. Jay's daughter Claire (Julie Bowen) and her husband Phil Dunphy (Ty Burrell) have three children: Haley (Sarah Hyland), Alex (Ariel Winter) and Luke (Nolan Gould). Each episode tackles a different thread that brings them together, from the mundane, like the children having school projects, to major events like a graduation.
History
Modern Family[1] premiered September 23rd, 2009, on ABC. As of May 2014, it has aired a total of 119 episodes over the course of five seasons.On May 8th, the show was renewed[2] for a sixth season set to premiere in fall 2014.
Reception
Modern Family earned a rating of 8.7 on IMDB and a score of 87 on Metacritic.[3] It won one Golden Globe for Best Television Series (Comedy or Musical) and 18 Primetime Emmy Awards. The show also enjoys a very high viewership. The series premiere brought in over 12.6 million viewers[4] and its most recent fifth season premiere brought in over 11.6 million viewers.[5]
Book Cover Mistake
On August 14th, 2014, TV Guide[16] reported that a very conservative Christian preacher named Doug Sehorne had published an e-book titled Bible Principles of Child Discipline, and had used a picture of Modern Family's Dunphy family for the cover.
The same day Sehorne published a message on his Facebook page (show below, since deleted)[17] in which he explains his ignorance in the show's content, saying he had not owned a TV in 35 years.
Several sites reported on the cover mistake and Sehorne's reaction including The Huffington Post[18] and Gawker.[19]
Marriage Certificate
On May 12th, 2014, Modern Family stars Jesse Tyler Ferguson and Eric Stonestreet appeared on morning talk show Good Morning America to announce that Modern Family would be paying the cost of all New York marriage certificates issued that day. The announcement was made to celebrate the marriage of their characters, Cameron and Mitchell, on the show's season five finale scheduled to air on May 21st, 2014. Several sites featured the promotion including Out[20] and Gawker.[21]
Online Presence
As of May 2014, the official Modern Family Facebook page[6] has gained over likes and its Twitter account[7] has gained over 650,000 followers. Its Instagram account[8] has over 5,000 followers. Hulu subscribers can watch all five seasons online.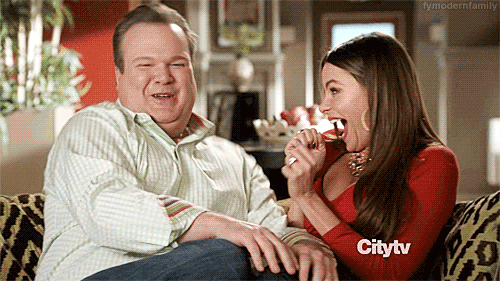 Fandom
In addition to its branded social media presence, there are several fan run sites for the show including modern-family.tv[14] and the Modern Family Fanpop page.[15] There are also multiple Tumblr blogs dedicated to the show such as fuckyeahmodernfamily[11] and modernfamilys.[12] Fans on Tumblr tag their content with the title of the show[10] or #MOFY[9]. As of May 2014, there are over 13,000 entries tagged Modern Family on DeviantArt.[13]
Phil Dunphy
Phil Dunphy is the patriarch of the Dunphy family, Claire's husband, Jay's son-in-law and Mitchell's brother-in-law. He works as a real-estate agent, and he's often clumsy and unsuccessful at the tasks he undertakes. He loves corny jokes and often makes pop culture references, especially to Harry Potter. Because of his goofiness and enthusiasm he has become a fan favorite.
Search Interest
External References
Recent Videos
There are no videos currently available.
Facebook Comments