PROTIP: Press 'i' to view the image gallery, 'v' to view the video gallery, or 'r' to view a random entry.
This submission is currently being researched & evaluated!
You can help confirm this entry by contributing facts, media, and other evidence of notability and mutation.
About
Resident Evil [1] (Biohazard in Japan) (バイオハザード) is a survival horror video game series and media franchise created by Shinji Mikami and owned by the video game company Capcom. Resident Evil is one of Capcom's most succesful franchises, as of 2012, the video game series has sold 50 million units worldwide and has inspired games like Alone in The Dark and Silent Hill, and coined out the term "Survival Horror"
Origin
The survival horror video game Resident Evil made its debut on the PlayStation in 1996, and was later ported to the Sega Saturn. The game was a critical and commercial success, it leads to the production of sequels, prequels, and spinoffs, Resident Evil 2 upon its release became the fastest-selling video game in North America, selling 380,000 copies and grossing $19 million its debut weekend alone, surpassing the previous record set by Final Fantasy VII and surpassing the revenue of all Hollywood movies except for Titanic that same weekend. While not as commercially successful as its predecessor, Resident Evil 3 was a bestseller in the UK, and sold 3.5 million copies on the PlayStation.
Resident Evil 4 was announced in December 1999 Resident Evil 4 underwent a long development time during which four proposed versions of the game were discarded. Initially developed for the PlayStation 2, the first attempt was directed by Hideki Kamiya after producer Shinji Mikami requested him to create a new entry in the Resident Evil series. Nevertheless, it was decided to start development over again. The game was intended to be a GameCube exclusive as part of the Capcom Five, but a PlayStation 2 version was announced before the game was released for the GameCube.
Resident Evil 4 is one of the most popular Resident Evil titles of all time, and is considered one of the greatest video games of all time. It was considered by most critics as a top contender for 2005's Game of the Year, and was seen as a successful cross-platform hit that highly influenced the evolution of the third-person shooter genre.
Spread / Mutation / Evolution
In addition to video games, the plot of Resident Evil has been depicted in multiple media
Movies
Constantin Film bought rights to the first film in January 1997 with Alan B. McElroy and George A. Romero as potential writers. In 2001 Sony acquired distribution rights to the film and hired Paul W. S. Anderson as writer and director for Resident Evil (2002). He continued on as writer and producer for Resident Evil: Apocalypse (2004) and Resident Evil: Extinction (2007), and returned as director for a fourth installment, Resident Evil: Afterlife (2010) and the fifth film Resident Evil: Retribution (2012), in 3D. A sixth installment is planned for a 2015 release date. The movie series were panned worldwide, suffering from scores on Metacritic and Rotten Tomatoes than barely go past 40, despite this, the series holds the record for the "most live-action film adaptations of a videogame" in the 2012 Guinness World Records Gamer's Edition, which also described it as "the most successful movie series to be based on a videogame."
Novels
The earliest Resident Evil novel was Hiroyuki Ariga's novella Biohazard: The Beginning published in 1997 as a portion of the book The True Story of Biohazard, which was given away as a pre-order bonus with the Saturn version of Biohazard.
S. D. Perry has written novelizations of the first five games, as well as two original novels taking place between games.
Comics
In 1997, Marvel Comics published a single-issue prologue comic based on the original Resident Evil, released through a
promotional giveaway alongside the original PlayStation game.
In 1998, Wildstorm began producing a monthly comic book series based on the first two games titled Resident Evil: The Official Comic Magazine, which lasted five issues. The first four issues were published by Image, while the fifth and final issue was published by Wildstorm themselves. Each issue was a compilation of short stories that were both adaptations of events from the games, as well as related side-stories. Like the Perry novels, the comics also explored events occurring beyond Resident Evil 2 (the latest game during the series' publication) and thus were contradicted by later games. Wildstorm also published a four-issue miniseries titled Resident Evil: Fire & Ice, which depicted the ordeal of Charlie Team, a third STARS team created specifically for the comic. In 2009, Wildstorm reprinted Fire & Ice in a trade paperback collection.
Online Relevance
Resident Evil has a rather large online following. A search of RE on DiviantArt brings in over 180,000 results. Asearch on reddit brings up over 16,000 results. A YouTube search for Resident Evil brings up over 1,000,000 results. Fanfiction.net has over 10,000 fanfics on RE.
Fandom
Resident Evil, has a large online fandom. Many fans cosplay, draw fan art, and make fan videos.
Videos
Fanart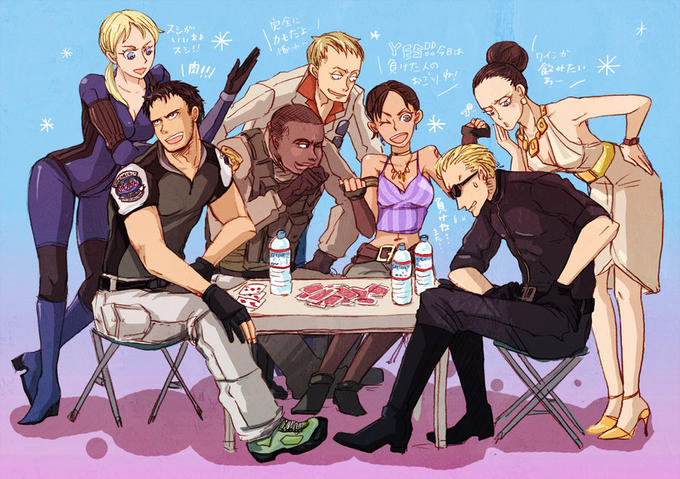 Cosplay
Related Memes
Poor Voice Acting
One of Resident Evil's most common criticism is it's cheesy, over the top dialogue and voice acting heard in the games. Such as the infamous opening hallway scene, where Albert Wesker shouts to the player in an almost bored voice "Don't Open That Door!". This is considered an inside joke amongst the Resident Evil fanbase.
Jill Sandwich is a quote meme that was first used as a line in the original first Resident Evil game. After the character Barry Burton save protagonist Jill Valentine from a descending ceiling trap, he remarks that his partner was nearly turned into "a Jill Sandwich". Line can be found at 0:36 in the video below.
Zombies are commonly used in video games, horror films, and other media. They even landed on the internet to become the subject of many memes. Zombies are a core part of the Resident Evil franchise being the main enemy you fight in the games.
Complete Global Saturation
Complete Global Saturation is quote meme that was first used as a line from main antagonist Albert Wesker in a cutscene in Resident Evil 5.
Search Interest
External References
Facebook Comments