PROTIP: Press 'i' to view the image gallery, 'v' to view the video gallery, or 'r' to view a random entry.
This submission is currently being researched & evaluated!
You can help confirm this entry by contributing facts, media, and other evidence of notability and mutation.
About
Spider-Man is a Marvel Comics superhero who fights crime in a fictionalized New York City. He is the alter ego of high school student Peter Parker, an orphan raised by his aunt and uncle who becomes a vigilante upon acquiring several superhuman skills, including super strength, speed, clairvoyance and abilities to stick to surfaces and shoot spider webs from his wrists, as a result of being bitten by a radioactive spider.
History
Comics
In 1962, writer Stan Lee created the Spider-Man character in the midst of a growing interest in comics from the teenage demographic. After several arguments with Marvel published Martin Goodman, Lee's spider-costumed superhero was reluctantly approved for a trial run in the August 1962 issue of Amazing Fantasy (shown below, left). In March 1963, the first issue of The Amazing Spider-Man by Stan Lee and artist Steve Ditko was published. It eventually went on to become Marvel Comics' top-selling series of all time (shown below, right).
In 1966, Ditko left Marvel Comics and was replaced by artist John Romita, Sr. In May to July of 1971, The Amazing Spider-Man issues #96-#98 were released with a story depicting the negative effects of drug use, following pressure from United States president Richard Nixon's Department of Health, Education and Welfare for the series to push an anti-drug message.
In 1985, the series The Web of Spider-Man was launched, which featured Spider-Man in an alien black costume (shown below, left). In 1990, the monthly title Spider-Man was released (shown below, right), which was written and drawn by artist Todd McFarlane and sold a record-breaking three million copies.
In 2012, The Amazing Spider-Man series was renammed The Superior Spider-Man, with the villain Doctor Octopus inhabiting the body of Peter Parker as the new Spider-Man (shown below, left). In April 2014, The Amazing Spider-Man was relaunched with the return of the real Peter Parker (shown below, right).
Television
In September 1967, ABC began broadcasting the Spider-Man animated television series, which ran until June 1970 (shown below, left). Screen captures from the series subsequently inspired the 60s Spider-Man image macros. From 1978 to 1979, CBS broadcast the live-action series The Amazing Spider-Man (shown below, right).
Many other Spider-Man animated television shows were subsequently released, including Spider-Man and Spider-Man and His Amazing Friends in the 1980s, Fox Kids' Spider-Man and Spider Man-Unlimited in the 1990s, followed by Spider-Man Unlimited (1999), Spider-Man: The Animated Series (2003), The Spectacular Spider-Man (2008) and Ultimate Spider-Man (2012).
Films
On May 3rd, 2002, Sony Pictures Entertainment released the Sam Raimi directed film Spider-Man, starring actor Tobey Maguire as Peter Parker, Williem Dafoe as the Green Goblin, James Franco as his son Harry Osborn and Kirsten Dunst as Mary Jane Watson (shown below, left). On June 30th, 2004, the sequel Spider-Man 2 was released, in which Spider-Man faces the villain Doctor Octopus (shown below, right).
On May 4th, 2007, the final film in Sam Raimi's trilogy Spider-Man 3 was released, in which Spider-Man faces an extraterrestrial symbiote who turns into the villain Venom (shown below).
On June 30th, 2012, film The Amazing Spider-Man was released, starring Andrew Garfield as Peter Parker, Emma Stone as Gwen Stacy and Rhys Ifans as Dr. Curt Connors (shown below, left). On May 2nd, 2014, the sequel The Amazing Spider-Man 2 was released (shown below, right), in which Spider-Man faces the living electric generator villain Electro (played by Jamie Foxx).
Online Presence
On April 17th, 2000, the Spider-Man news site Spider-Man Crawlspace[9] was launched. On October 3rd, 2005, the Spider-Man Wiki[8] was created, which gathered upwards of 2,500 entries in the next nine years. On July 2nd, 2010, the /r/spiderman[7] subreddit was launched for discussions related to the superhero. On Feburary 4th, 2011, a Facebook[6] page titled "Spider-Man" was launched, gathering over 11 million likes in the first four years.
Fandom
There are numerous Spider-Man fan blogs on Tumblr, including The Amazing Spider-Man Blog,[3] Fuck Yeah Spider-Man[4] and Spider-Man Spider-Man,[5] among many others. As of May 2014, more than 94,200 images have been uploaded to DeviantArt] under the tag "spider-man" andover 2,500 Spider-Man-related stories have been submitted to the fanfiction database Fanfiction.net.[1]
Related memes
'60s Spider-Man
'60's Spider-Man, also known as "Retro Spider-Man," is an image macro series based on still shots from the 1960s Spider-Man cartoon series, typically featuring an absurd internal monologue that correspond with the actions depicted in the images.
Dancing Spider-Man
Dancing Spider-Man is an animated GIF image of Spider-Man performing a dance in front of a blank white background.
Toei Spider-Man
Toei Spider-Man is the Japanese tokusatsu television series loosely based on the Marvel Comics character. In this version, Spider-Man is portrayed as a live-action hero equipped with a giant mecha and cheesy, over-the-top entrances.
How Do I Shoot Web?
"How Do I Shot Web?" is a catchphrase associated with a comic panel of Spider-Man holding hands in front of his body to express confusion.
Crippled Spider-Man
Crippled Spider-Man is a YTMND fad featuring a photograph of a person in a Spider-Man costume holding a walking frame.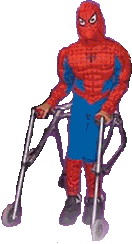 Italian Spider-Man
Italian Spider-Man is a 2007 Australian Spider-Man film parodying Italian action-adventure films released in the 1970s.
Search Interest
External References
Facebook Comments