PROTIP: Press 'i' to view the image gallery, 'v' to view the video gallery, or 'r' to view a random entry.
This submission is currently being researched & evaluated!
You can help confirm this entry by contributing facts, media, and other evidence of notability and mutation.
Work in progress. Feel free to request editorship
About
Spider-Man is a comic book superhero who appears in comic books published by Marvel Comics. Was created by the writer-editor Stan Lee and writer-artist Steve Ditko, he first appeared in Amazing Fantasy #15 (August 15th 1962). He's Marvel's most popular character, and the third most popular comic book character in the world after Batman and Superman. There have been 4 movies and 11 shows both live action or animated.
Spider-Man has super strength (can lift up to 10 tons) and agility, the ability to cling to most surfaces, shoot spider-webs using devices of his own invention which he called "web-shooters", and react to danger quickly with his "spider-sense", enabling him to combat his foes. Spider-Man's secret identity is Peter Parker, a 25 year old New York resident who used to take pictures of his alter-ego for the Daily Bugle, but now works at a science lab. He got his powers from a radio-active spider bite, and at first was an entertainer, which is why his costume is so flashy, but his Uncle Ben got shot one day by a burglar Peter could have stopped, but was too selfish to stop. Now Peter lives by the motto Uncle Ben taught him "With great power comes great responsibility" His youth, his dorkiness, and his humor help people connect to him all these 50 years. Some of his greatest villains are the Green Goblin, Venom, Doctor Octopus, Kraven the Hunter, Carnage, Hobgoblin, Mysterio, the Lizard, and many more. He's also had a multitude of variants of his costume including the original red and blues, the symbiote blacksuit, the cloth version of the black suit, cosmic Spider-Man, Ben Reilly costume, Spider-armor, FF costume, and more.
Recently, Peter Parker died in Doctor Octopus (or Otto Octavius)'s body, and Otto is now in Peter's body. Otto has promised to become a Superior Spider-Man and protect the city better than Peter has in the past. This switch is very controversial, and hated by some people. Otto, as the Superior Spider-Man, is a more vicious Spider-Man, often harming villains and killing some, and a more technological Spider-Man, using a new costume with claws and special lenses in his mask, and using Spider-bots to patrol the city.
History
There have been 4 movies and 11 shows both live action or animated based on Spider-Man, he's starred/been an available character in over 50 video games and he's been in 9815 comic books total.
Researching
Online Presence
Researching
Related memes
'60s Spider-Man
60's Spider-Man , also known as "Retro Spider-Man", refers to an image macro series based on still shots from the original Spider-Man cartoon series, typically featuring an absurd internal monologue that correspond with the actions depicted in the images.
Dancing Spider-Man
Dancing Spider-Man refers to an animated GIF image of Spider-man performing a dance set to a blank white background. It had a great spread in YTMND, and also was used putting a different audio
Toei Spider-Man
Toei Spider-Man is the Japanese tokusatsu television series loosely based on the Marvel Comics character, Spider-Man. In this version, Spider-Man is portrayed as a live-action hero equipped with a giant mecha and cheesy, over-the-top entrances. Due to the drastic changes made to the storyline and character settings, the series was eventually rediscovered by the Japanese internet users, opening up the door for memetic mutation.
How Do I Shoot Web?
"How Do I Shot Web?" is a popular catchphrase paired with an image of Spider-man, that is typically used in online conversations to poke fun at n00bish behavior.
Crippled Spider-Man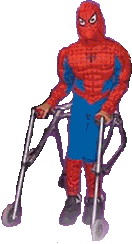 Crippled Spider-Man is a YTMND fad, featuring a picture from a Halloween costume catalogue where a kid in a Spider-Man outfit was holding a walker.
Italian Spider-Man
Italian Spider-Man http://knowyourmeme.com/memes/subcultures/italian-spiderman is a parody made in the 70's in Italy. The ridiculousness of this parody has brought it fame.
Search Insights
Facebook Comments