PROTIP: Press 'i' to view the image gallery, 'v' to view the video gallery, or 'r' to view a random entry.
This submission is currently being researched & evaluated!
You can help confirm this entry by contributing facts, media, and other evidence of notability and mutation.
About
Thor is a character in Norse mythology known as the God of thunder who became a character in the Marvel Universe in 1950. The Marvel character has most recently been portrayed by Chris Hemsworth in Thor (2011), The Avengers (2012) and Thor: The Dark World (2013).
History
Thor appears in Norse mythology as the son of Odin, living in the fictional land of Asgard. Thor originally appears as a character in the Marvel universe[15] in Venus #11, which was released in November of 1950. Thor got his own self-titled comic books series in March of 1966 with the first issues titled "Whom the Gods Would Destroy!" The series continued for over 400 issues through 2009. From 2011-2012 a series titled The Mighty Thor put out 23 issues, and from 2012-2014 Thor: God of Thunder put out 25 issues. On May 6th, 2011, the film Thor[9] was released, starring Chris Hemsworth as the titular Thor.
The Female Thor
On July 15th, 2014, Marvel announced[16] on the morning talk show The View that in an upcoming comic Thor would become a woman. The same day many sites covered the news supporting the change including TIME's[20] article "Here's Why a Female Thor Makes Total Sense." Other sites focused on other angles to the story, like Wired's[21] piece which explained the speed the news traveled through mainstream news sources is proof comic culture is truly mainstream and The Guardian[22] opinion piece titled "A female Thor is good – a feminine male superhero would be better." Jason Aaron, a writer for the Thor comic book series explained exactly what a female Thor would mean, saying:
"This is not She-Thor. This is not Lady Thor. This is not Thorita. This is

THOR

. This is the

THOR

of the Marvel Universe. But it's unlike any Thor we've ever seen before."


Reception
The film was a critical and commercial success, earning a rating of 77% on RottenTomatoes[10] and earning over 440 million dollars[11] worldwide. Hemsworth also appeared as Thor in the 2012 Marvel film The Avengers. On November 18th, 2013, Thor: The Dark World[11] was released. The film earned a rating of 65% on Rotten Tomatoes[13] and earned over 640 million dollars[14] worldwide.
Online Presence
As of July 2014, the Facebook page[1] for the film Thor has gained over 12.1 million likes and the film's Twitter account[2] has gained over 260,000 followers. On May 8th, 2011, the /r/Thor[3] subreddit was launched for discussions related to the superhero, as of July 2014, the subreddit has over 600 subscribers.
Fandom
There are numerous Thor fan blogs on Tumblr, including fuckyeahthor[4], verily-thor[5] and ask-the-mighty-thor.[6] As of July 2014, more than 170,000 images have been uploaded to DeviantArt [7] under the tag "Thor" and over 7,000 Thor related stories have been submitted to the fanfiction database Fanfiction.net.[8]



Related Memes
Loki
Following the release of the 2012 film Marvel's The Avengers, a fandom arose surrounding Tom Hiddleston's portrayal of the villain Loki. In April of 2012, a Quickmeme[22] page titled "Loki" was created, which features photographs of Hiddleston that can be edited with custom captions (shown below).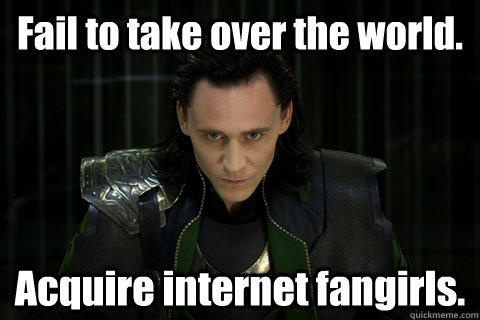 On April 4th, a Facebook[26] page titled "I Love Tom Hiddleston (Loki Page)" was launched, accumulating more than 15,000 likes in the first 16 months. On Tumblr, several Loki-related fan blogs have been launched, including "F Yeah Loki,"[23] "Loki Lovers"[24] and "Loki's Monster Crotch."[25] On July 21st, 2013, Hiddleston appeared as Loki at the San Diego Comic-Con and took over comedian Chris Hardwick's panel to address the audience (shown below).
Viral Videos and Parodies
On June 2nd, 2011, YouTuber HISHE [18] uploaded a video titled "How Thor Should Have Ended." As of July 2014, the video has gained over 9.7 million views. On October 29th, 2013, YouTuber Screen Junkies[17] uploaded an Honest Trailer for Thor. As of July 2014, the video has gained over 3.3 million views.
On November 5th, 2013, YouTuber CinemaSins[19] uploaded a video titled "Everything Wrong With Thor In 8 Minutes Or Less." As of July 2014, the video has gained over 2.8 million views. On February 14th, 2014, YouTuber Screen Junkies[17] uploaded an Honest Trailer for Thor: The Dark World As of July 2014, the video has gained over 3.7 million views.
Search Interest
External References
Facebook Comments