PROTIP: Press 'i' to view the image gallery, 'v' to view the video gallery, or 'r' to view a random entry.
Introduction
Super Smash Bros. is a best-selling fighting game series produced by Nintendo featuring characters from several of their hit video games. The first game in the series, Super Smash Bros., was introduced in 1999 for the Nintendo 64 and was followed up by Super Smash Bros. Melee which was released on November of 2001 for the GameCube. When Melee came out, the character roster was doubled (which became crucial to the development of the Fake Roster meme). When Super Smash Bros. Brawl was announced to be in development in a pre-E3 2005 press conference, like a domino effect, it was expected by many fans that Brawl would have double the amount of Melee's characters, so thus, the memes were born.
About
Super Smash Bros. Character Predictions are memes all about predicting Super Smash Bros. characters, be the characters logical or illogical to add in the game. The craze had sparked a YTMND fad and several Exploitable fads.
It is possible that this meme had died when Super Smash Bros. Brawl's full real roster was revealed but the meme has been popping up now and then in the form of peoples' wish lists for a fourth game, if said game ever comes out.
Origin
The meme had started some time after third-party characters such as Solid Snake and Sonic the Hedgehog were introduced as characters in Brawl. The video game characters that people could think of as possible fighters didn't have to center around the Nintendo franchise anymore.
Popular possible choice characters for Brawl that were not in the game include Megaman, Geno from Super Mario RPG: Legend of the Seven Stars, Krystal from the Star Fox series, Phoenix Wright, Leon Kennedy from the Resident Evil series, Sora from the Kingdom Hearts series, and several others.
Memes
Newcomer Y.T.M.N.D. Fad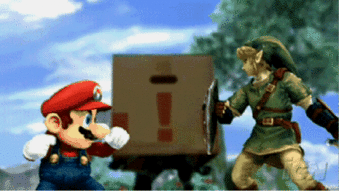 About
Newcomer, like Osaka Shoe Kick and WRONG!, is another YTMND fad. This fad parodies the Super Smash Bros. Brawl trailer wherein which Solid Snake is first introduced as a new character and the first third-party character. How this works is a character of the site maker's choice is introduced as a new fighter by removing Snake and editing in the choice character.
Origin
The meme started on May 10, 2006 with a site called Super Smash Bros. Brawl Newcomer: John Madden! uploaded onto YTMND by Bendilin.
Examples
Soon after Bedilin's YTMND site, many other sites came to follow it. Here are some examples:
Fake Super Smash Bros. Rosters
About
Due to several peoples' beliefs that the roster would have doubled by the third game, they had created their own versions of character rosters of unbelievable proportions. These rosters were ranging from an acceptable number of just 30+ characters or so included to a whopping 100+ characters or even more.
Examples
Challenger Approaching! A new foe has appeared!
About
This meme basically parodies the "Challenger Approaching!" screen in Brawl wherein which, instead of featuring a real character's silhouette inside the red circle, the silhouette of a character of the shooper's choice is shown.
Examples
Brawl Character Bio Spoofs
About
In the official Brawl website, Smash Bros. DOJO!!, each character had their own bio page featuring the character, the character's name, game logo, a small description about the character, screen shots of them in the game, and their special moves.
Spoofs of these bios started appearing around the internet while the DOJO!! was still being made featuring the peoples' predicted characters with all the info and pictures needed.
Though, most of these pics only parody the Brawl promotional posters by only featuring the character and sometimes the header.
Examples
Super Smash Brothers 4
At E3 2011, Nintendo announced that Project Sora will be working on a fourth Super Smash Bros. for the Wii U and Nintendo 3DS. On June 8, 2011, IGN interviewed Masahiro Sakurai and asked about the possibility of a Capcom character appearing in SSB4. Sakurai said:
"I can't say that it's entirely out of the realm of possibility that some Capcom character could appear in the next Smash Bros. The big problem, though, comes from the idea of trying to get characters from a completely different universe to fit with the style that has been dictated by Nintendo's characters in a fighting game.
"In fact, I actually think it's a miracle that we got Smash Bros. and all the Nintendo characters to work together in the first place. Especially when you bring Pokemon into the mix and a lot of the complications that are caused by that being an almost completely different entity on its own, it's really something. So this is something that obviously will come up more as we get started on the new Smash Bros. development, but keeping those things in mind I think is important."
At the end of this article, there is a poll asking "What Capcom character would you most like to see appear in the next Smash Bros. game?". Mega-Man came in first place (55.08%) with Viewtiful Joe in second (11.85%) and Ryu in third (10.80%). Nathan "Rad" Spencer came in last place (0.36%).
This started a speculation that popular Capcom character Mega-Man would be a Newcomer. Mega-Man, as popular as he is, was a very popular SSBB prediction back then.
Videos
There are also numerous amounts of Super Smash Bros. Character Prediction videos on Youtube, some serious while some (like the first video) extremely absurd.
Facebook Comments