PROTIP: Press 'i' to view the image gallery, 'v' to view the video gallery, or 'r' to view a random entry.
This submission is currently being researched & evaluated!
You can help confirm this entry by contributing facts, media, and other evidence of notability and mutation.
About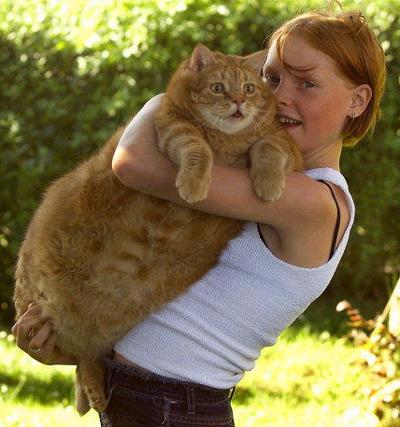 Long before the rise of LOLcats, Tubcat (real name: "Tulle") became one of the first cat-related internet phenomena ever recorded, gaining popularity in 2002 because of his enormous weight. Although many internet users assumed that Tubcat was a product of photoshop, his girth was very real, and he weighed about 19.2 kg (42.3 lb).
Tubcat's weight was actually due to kidney-related problems, and as a result, Tubcat, the fattest cat in the world at the time, was euthanized in early 2008, barely moving in his last months.
Tubcat should not be confused with Tubgirl, a shock site image.
Origin
The first picture of Tubcat reportedly made its appearance in US Weekly, p. 96, on October 1, 2001.
The cat's real name is Tulle, and the 12-year-old girl holding him is Tahabita (spelled Tabitha elsewhere) Pedersen. They're from Denmark, and Tulle was 6 years old and 43 lbs when the picture was taken (only 4 lbs less than Himmy). Tulle hit 19.2 kilos, but died of diabetes (and may have had heart problems), a common side-effect of obesity, in January 2008.

Although Tubcat/Tulle is dead, he unfortunately started a trend of people putting up photos of their own obese cats, some of which may have been deliberately overfed to outdo Tubcat.
(Source: MessyBeast.com)
The fan page, Tubcat.com, had its domain registered on January 9, 2002.
The site, written in grammatically incorrect netspeak (Ex: "TUBCAT IZ NOT MY KITTIE!!!! I AM ONLKY A FAN!!!"), features pictures of Tubcat and his "wife," and links to tubcat-related merchandise.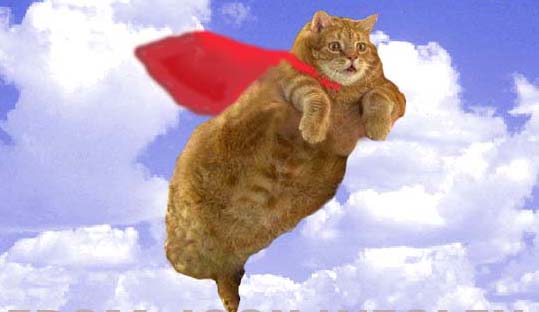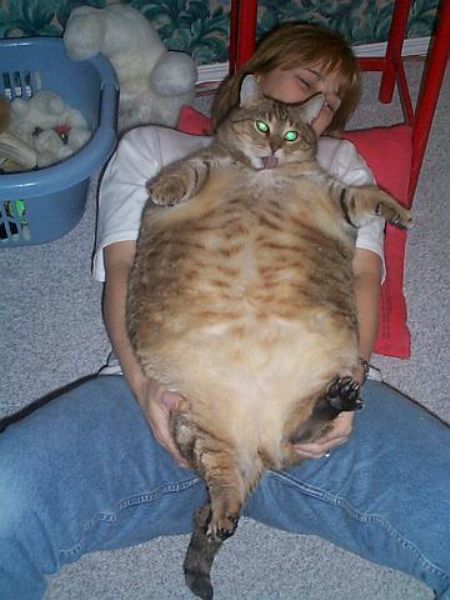 Spread
The original Tubcat website began a trend of posting other extremely overweight cats on the internet, seen in the following galleries:
- freinds of TUBCAT!!! (Gallery 1, 2, and 3)
- FAT CATS!
And as with most cat-related internet phenomena, tubcat was subject to a lot of parody through photoshopping as well.
References to Tubcat on Forums
- Neko (4 Feb 2002)
- CHUD (18 Feb 2002)
- Speed Guide (3 Mar 2002)
- The Straight Dope (4 May 2002)
- Team Xbox (19 May 2002)
- Team Photoshop (22 Oct 2002)
- Speed Guide (7 Sep 2003)
- Google Community (3 Oct 2004)
Tubcat in Other Countries
- French
- French Comic
- Spanish
- Japan
[Links via Encyclopedia Dramatica (NSFW)]
Reactions

Tubcat and similar sites contribute to the sad trend in overfeeding cats and causing premature death in pursuit of publicity.
(Source: MessyBeast.com)
As of February 2003, there is a new contender for the world's heaviest cat. Five year old Katy, who lives in Russia reportedly weighs 20kg. Katy's owners had hoped to have her recognised as the world's heaviest cat with the Guinness Book of Records however they are no longer accepting nominations in this category as they don't want to encourage pet owners to overfeed their animals.
(Source: Cat World)
Recent Videos
There are no videos currently available.
Facebook Comments