PROTIP: Press 'i' to view the image gallery, 'v' to view the video gallery, or 'r' to view a random entry.
This submission is currently being researched & evaluated!
You can help confirm this entry by contributing facts, media, and other evidence of notability and mutation.
About
Video Game Myths are rumors of strange NPCS, or other kinds of entitys, that never been found, nor mentioned, in the game before.
Notable Examples
Polybius
Polybius is a supposed arcade game featured in an Internet urban legend. According to the story, the Tempest-style game was released to the public in 1981, and caused its players to go insane, causing them to suffer from intense stress, horrific nightmares, and even suicidal tendencies. A short time after its release, it supposedly disappeared without a trace.
Not much evidence for the existence of such a game has ever been discovered. Polybius gets its name from Polybius, the Greek historian who, among his other works, was known for his works in relation to cryptography and for developing the Polybius square.
Pokemon
Lavender Town Syndrome/Oaks Curse
Lavender Town Syndrome, also known as The Lavender Town Conspiracy, The Lavender Town Tone, or The Lavender Town Suicides, is a series of creepypasta stories and videos that detail a conspiracy to cover up mass child suicides.
These suicides were allegedly caused by listening to the first version of the Lavender Town Theme in the Japanese version of the Pokemon Red and Green games, but what it says in the Creepypasta, a very rare message that appears after encountering a Pokemon outside of Oak's Lab seems to be the actual case.
Legend Of Zelda
Phantom Epona
Epona's role in The Legend of Zelda series is that of Link's steed. She made her debut in the first 3D Zelda game, Ocarina of Time . She also appeared in its sequel, Majora's Mask , Twilight Princess , and as a small cameo in the Oracle Series and The Minish Cap . In Ocarina Of Time , theres rumors of a secret code/glitch that turns Epona into a similiar color scheme of Dark/Shadow/Phantom Link.
When ever Link trys to ride Shadow/Phantom/Dark Epona, he will get injured slightly, and if Link's health is fully down, he will die and a cutscene will play afterwards.
GTA

:SA/

GTA

:IV
Bigfoot
Bigfoot (or Sasquatch) is a mythical ape-like creature claimed to have been spotted around North America, and similar creatures in other locations around the world, such as the Yeti. The existence of Bigfoot in Grand Theft Auto: San Andreas has been the center of many Internet-based rumors since the game was released.
It is impossible to locate where the idea originated, although one theory suggests that this is due to mention of the artist Bigfoot in the brochure that came with the game.
The idea of Bigfoot's existence fits nicely into the diverse world of the San Andreas countryside, especially in the Flint County and Whetstone areas, with large virgin forests and "spooky" locations, where sightings are reported most frequently.
Several screenshots and videos, often blurry and of low quality, have been posted claiming to show the creature in the game. Sometimes genuine in-game captures of unofficial modifications or doctored images and videos can fool the the reader.
UFOS
UFOs are another popular myth of GTA San Andreas. As of this time, a Rockstar spokesman was interviewed and when they asked him about UFOs he changed the subject. Later in another interview, a Rockstar spokesman said: "We did not initially put UFOs in-game. However, there may be some data still in the game we thought to have deleted."
This has aroused suspicion among certain areas of the fanbase. Sometimes on the streets, you can hear a pedestrian discuss about a UFO attack on their car, this pedestrian was later nicknamed by players as Mr Trenchcoat.
Mothman
Mothman is a legendary creature reportedly seen in the Point Pleasant area of West Virginia from 15 November 1966 to 15 December 1967. The existence of Mothman, along with Bigfoot and other myths, in Grand Theft Auto: San Andreas has been the center of many Internet-based rumors since the game was released.
Some players reported that once the NPC was seen, airplanes crash towards the player, random pedestrians with guns attack the player,etc. This refers to the rumor of it being a sign of disaster.
Working On
Minecraft
Herobrine
Herobrine, also known as "HIM", is a mysterious character from a Minecraft creepypasta story. He is portrayed as a non-player character in single-player Minecraft with the default skin and completely white eyes, and often seen as a dead miner.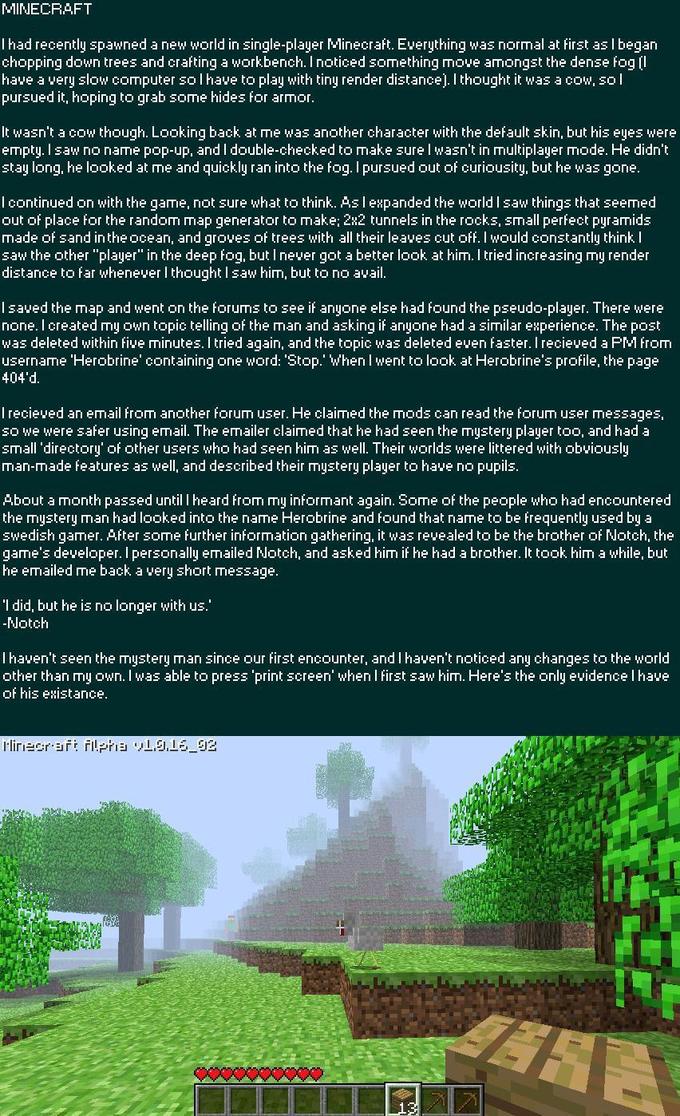 There are many variations of Herobrine's behaviour, but they usually fall under two categories.
The Stalker version of Herobrine is Notch's brother, who stalks the player, disappearing if approached. This variation is most likely derived from another internet creepy-pasta, Slenderman.
The Miner version of Herobrine is a vengeful miner that tries to ensnare the player in traps, presumably to steal their items. He waits for people to enter his dungeons, then either seals them inside, or "teleports" behind them, presumably killing them. Some variations of this particular version says he breaks the player's creations, and steals their items from chests.
In all versions, Herobrine is a human ghost entity, with the only variable being his intentions and construction abilities, or lack thereof.
"11"
11 is a record that can be played in jukeboxes, it plays music made by C418.
The recording seems to be of a person running across (or maybe breaking) different block types and later on, stopping to supposedly use equipment of some kind, cough, and then continue running with a hastened pace. Sounds similar to that of running on Dirt, Stone, the person struggling, and Haunting background noises are heard throughout the recording.
Strange noises of barking or wind blowing are heard near the end before abruptly stopping. One can hear static noise akin to what would be expected of a broken record after this point before ending.
It has been suggested by the community that the person was being chased by an Enderman, a "Hellhound" Wolf, or even the dreaded Herobrine. It is the only disc that can not be obtained in Survival.
Search Interest
External References
Working On
Facebook Comments