This memorable quote from the 2005 Family Guy feature-length film Stewie Griffin: The Untold Story is typically used when discussing one's pet peeves in online forums.

Welcome to the weird part of Google Image Search.

If you've read your share of top comments on YouTube, you're probably aware that YouTube's little known real-time remixing tool is actually right at your fingertip.

This is what your face looks like after overdosing on marijuana. Do you still think it's all fun and game?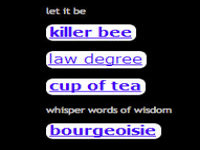 Not to be confused with Google Poetry, Tumblr users have been writing absurd parodies of pop songs with the aid of the online rhyming dictionary RhymeZone since November 2011.

The clueless starfish character Patrick from Spongebob Squarepants should not be allowed to answer phones at the Krusty Krab restaurant.

[The GoT main theme is playing in your head right now]

Enter the world of time-lapsed painting videos on YouTube.

Often used by Sonic fan artists on DeviantART "original character do not steal" is a phrase used to mock artists whose "original characters" are near perfect copies of the original characters.