Not to be confused with Google Poetry, Tumblr users have been writing absurd parodies of pop songs with the aid of the online rhyming dictionary RhymeZone since November 2011.

The clueless starfish character Patrick from Spongebob Squarepants should not be allowed to answer phones at the Krusty Krab restaurant.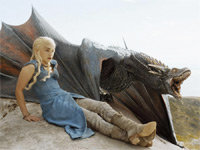 [The GoT main theme is playing in your head right now]

Enter the world of time-lapsed painting videos on YouTube.

Often used by Sonic fan artists on DeviantART "original character do not steal" is a phrase used to mock artists whose "original characters" are near perfect copies of the original characters.

The interruptor phrase is a popular way of presenting actors (and pizza) Tumblr users believe are perfect.

The elusive Waldo has been frustrating children for over twenty-five years, and on YouTube he's become a red and white striped spy in several parody trailers.

"What I Know About.." fake Power Point presentations are a way for Tumblr users to explain what little they've learned about a fandom or TV show just from the photos and GIFs that end up on their dashboards.