"What I Know About.." fake Power Point presentations are a way for Tumblr users to explain what little they've learned about a fandom or TV show just from the photos and GIFs that end up on their dashboards.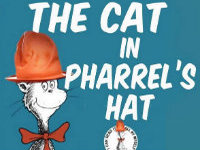 The hashtag game that originated on the comedy show @mightnight is just the latest Twitter trend to encourage users to make their childhood literary favorites a little darker.

For decades, the four letters on the left-hand home row of a keyboard have been used to convey a sense of utter excitement or frustration, depending on the context.

These comical fan arts of the video game character Sonic the Hedgehog follow the online trend of matching poorly-drawn illustrations with intentionally misspelled names.

Originally used as a punchline in rage comics, this is the perfect way to tell your critics that despite the bruises and embarrassment, what you did was worthwhile in the end.

Celebrate Twitter's 8th birthday with us by looking back on the birth and the rise of the hashtag, which is without a doubt the single most universally adopted and recognized term in today's social media parlance.

We recently received a tip about the origin of the studio portrait featuring this adorable chubby baby!

YouTubers have been creating mash-ups of the theme song from Thomas and Friends and classic rap songs since 2006.