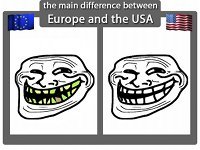 This image macro series originated on a Norwegian humor site in 2004 before being turned into a 4chan exploitable three years later.

America: Fk Yeah!: this multi-purpose expression can be used as both an authentic display of patriotism or an ironic response to United States jingoism.

America: Fk Yeah!: With more than 10,000 image macros and a spin-off series in active circulation, America's #1 rural conservative bro well deserves this confirmation.

Science, How Does it Work?: This rage comic series deliberately ignores the laws of physics to mislead viewers and frustrate science educators.

Hey dudes, did you know that your shirt can go around your boobs? The social media epidemic of gratuitous cleavage photos swings both ways on Tumblr.

Single Topic Blogs: While the original blog responsible for creating this photoshop meme has called it quits, a new Tumblr has since picked up the torch.

The First World's precursor to the Skeptical Third World Kid, Skeptical Baby is the originator of "You Mean To Tell Me…" rhethoric in advice animals.

Photography Memes: Perhaps best known through Michael Jackson's critically acclaimed 1991 music video "Black or White," this transformative technique has become a popular pastime for photoshoppers on the Internet.