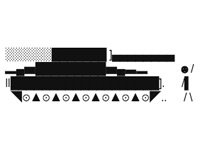 If you've been watching videos on YouTube this week, you must've seen this message taking over the comments:
Bob is building an army.
This tank & Bob are against Google+.
Copy and paste this all over YouTube if you are with us.

Auto speech recognition technology, it's a work in progress.

Sony kicks off a new chapter in console wars with the launch of PlayStation 4 today, a full week before the release of its competitor Microsoft's XBox One.

Shortly after the release of Sony PlayStation 3 in late 2006, YouTuber Tokenwebster uploaded a video to show off having three PS 3 systems, inspiring a series of parodies in which people brag about owning multiple copies of the same thing.

Did the Internet utterly ruin your precious memories of childhood? Here's a remedy for that.

In this prime specimen of childhood-ruining memes, pictures of cute animals and innocent cartoon characters get turned into mugshots of psychopath serial killers.

Sexy sweaters, they're not just fantasy clothes anymore. Check inside and find out where you can buy them online!

Sergeant Roger Murtaugh's memorable catchphrase from the buddy cop action film series Lethal Weapon has been confirmed!