The Internet isn't exactly the best place to look for high moral grounds when it comes to respecting the sensitivity of the 9/11 anniversary, yet as it turns out, Americans on Twitter are far less forgiving when dealing with commercial tie-ins.

The music video for the song "Wrecking Ball" by Miley Cyrus has broken the VEVO record for most views within a 24-hour period.

Convicted kidnapper Ariel Castro was pronounced dead this week after prison staff discovered him hanging from a bed sheet in his cell, causing the Internet to erupt with image macros and tweets about the apparent suicide.

The endgame of Mr. Walter White has begun.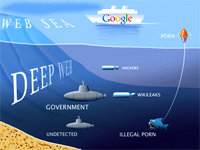 Following last week's FBI takedown of Freedom Hosting, one of the largest distributors of child porn on the anonymous Tor network, some privacy advocates are raising doubts over the future prospects of the Deep Web.

According to Deadline, E! is working on a new reality TV show that will follow a group of posh teenagers from Beverly Hills who rose to Internet notoriety last year through the viral Tumblr blog Rich Kids of Instagram.

After two months of hypes and rumors about the choice of lead role for BBC's Doctor Who, it was revealed yesterday that Scottish actor Peter Capaldi (In The Loop) will pick up the baton from Matt Smith as the Twelfth Doctor.

In yesterday's Wall Street Journal article on brandjacking of corporate-sponsored tweets, Twitter spokesman Jim Prosser gave a nod to this fast-growing subculture by describing it as a "refuge" from the sudden influx of advertisers on the popular microblogging site.

How long does a sexting scandal last in the world of politics? Apparently too long for the ex-congressman and NYC mayoral candidate Anthony Wiener, who admitted to engaging in further sexting after being confronted with more lewd photos he allegedly sent to a young woman.