Uh, it's that time of the year again.

Comedian Joan Rivers died this afternoon at a hospital in New York city after suffering a cardiac arrest during surgery last week. According to her daughter Melissa, "she passed peacefully" while in the company of close family and friends.

This week, tens of thousands of "burners" descend upon the Black Rock Desert in northern Nevada to participate in the annual Burning Man festival, which has been described as a temporary experimental community for art, "radical self-expression" and "radical self-reliance."

The Internet mourns the death of Lord Richard Attenborough, the iconic British actor and filmmaker behind a lengthy list of classic films like A Bridge Too Far, Flight of the Phoenix and Jurassic Park, who passed away yesterday after years of battling heart diseases complications. He was 90 years old.

The Discovery Channel programming block has been making swimmers nervous since 1988.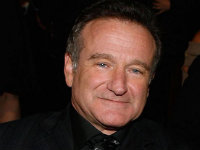 The late actor, who passed away yesterday, is known for many memorable film roles in movies such as Good Will Hunting, Mrs. Doubtfire and Good Morning, Vietnam.

The first game in the Kirby series, Kirby's Dream Land, for Nintendo's original Game Boy, was released in twenty years ago on August 1st, 1992.

In case you haven't heard, today is the National Girlfriends Day. If you've got a girlfriend, don't forget to say something nice, and if you don't, well, just get in here.

Is your Facebook profile in dire need of a seasonal update, but can't quite imagine yourself doing the Roller Coaster Chess challenge? Well, here's the perfect alternative solution for your epic summer selfie project.